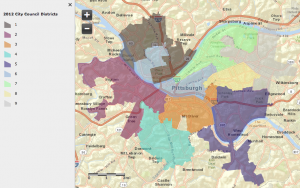 Campaign fundraising numbers from January to May are in for candidates running for Pittsburgh City Council, as are a number of newspaper endorsements.
Here's the district-by-district breakdown.
District 4
Incumbent Natalia Rudiak is facing a primary challenge from fellow Democrat Johnny Lee. Rudiak was endorsed last week by the Pittsburgh Post-Gazette.
Natalia Rudiak
Raised: $112,190.92
Spent: $58,568.08
Cash on hand: $53,552.84
Johnny Lee
Raised: $31,890.00
Spent: $24,275.83
Cash on hand: $7,614.17
District 6
A three-way race for the Democratic nomination is unfolding between incumbent Daniel Lavelle, who was endorsed on Friday by the Post-Gazette, Dok Harris, and former Councilwoman Tonya Payne.
Daniel Lavelle [not filed]
Dok Harris
Raised: $27,110.00
Spent: $10,249.83
Cash on hand: $16,860.17
Tonya Payne [not filed]
District 8
This is Bill Peduto's seat and a hotly contested three-way primary is being fought out between Jeanne Clark, Dan Gilman, and Sam Hens-Greco to fill it. Gilman was endorsed by the Post-Gazette last Thursday.
Dan Gilman
Raised:$178,070.85
Spent: $74,815.14
Cash on hand: $103,255.71
Gilman brought forward $55,198.81 from his previous report, which is reflected in the total funds raised.
Jeanne Clark
Per Tim McNulty on Early Returns:
Raised: $58,242
Spent: $49,600
Cash on hand: $8,641
Sam Hens-Greco
Raised: -$2,090
Spent: $10,659.73
Cash on hand: -$12,749.73
While a report filed Friday (reiterated above) indicates a negative balance in Hens-Greco's account, Tim McNulty reported on Early Returns that Hens-Greco said his full report would reflect about $40,000 funds raised with approximately $7,000 cash on hand.