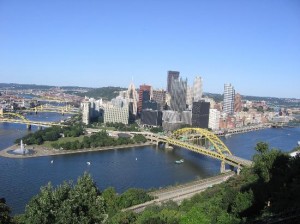 In the hopes of strengthening international ties, newly elected Pittsburgh Mayor Bill Peduto will host two international delegations today.
The first will consist of two Chinese journalists who hail from Wuhan, China — Pittsburgh's sister city — and the other will consist of European dignitaries brought together to discuss the role of public-private partnerships in restructuring economies.
"Of course there are economic benefits to having strong relationships with our global partners and sister cities, but the benefits of cultural exchange cannot be overstated either," said Mayor Peduto. "Whenever Pittsburgh has the opportunity to strengthen our international bonds, we should do it for the good of the city and of the country."
Yangtze Daily Senior Journalist Yu Xi and Wuhan TV Station Chief Journalist Zhang Jun will visit the University of Pittsburgh where they will interview Mayor Peduto, former Pittsburgh Mayor Tom Murphy, film director and producer Rick Sebak of WQED and PBS, and renowned interdisciplinary artist Vanessa German.
Yangtze Daily Senior Journalist Xi is currently writing a book on Wuhan's 20 sister cities, which includes Pittsburgh — the only city in the U.S. with that distinction.
The event is an opportunity for in depth cultural exchange between the large metropolis of Wuhan and the burgeoning Western Pennsylvania city.
Later in the day, Mayor Peduto will discuss the role of public-private partnerships in restructuring economies to a European delegation. The project is sponsored by the U.S. State Department in conjunction with Global Pittsburgh.
The European dignitaries will represent Albania, Austria, Italy, Macedonia, Romania, Spain, Sweden, Turkey and the United Kingdom.