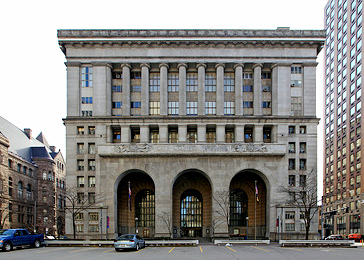 If you've lost count of just how many people are now running for mayor of Pittsburgh, you're not alone.  The good news is that there should be a final count by tomorrow evening; the deadline for petitions is 5pm.
The Allegheny County Democratic Committee endorsement vote took place on Sunday March 10th, and now that current Pittsburgh Mayor Luke Ravenstahl has withdrawn his name from the race, City Controller Michael Lamb was sole name on the party's endorsement ballot and won the endorsement.
By the way, the mystery candidate whom Ravenstahl said during his announcement that he would seek to recruit into the race? Former County Executive Dan Onorato, the Post-Gazette confirmed today. The two are political allies, but Onorato said last week he's happy with his private sector job and declined to run.
Winners were also declared in the only two contested city council races: Dan Gilman, Councilman Peduto's aide, won the race in the 8th by 33 votes.  Former Councilwoman Tonya Payne won narrowly in the 6th with 55% of the vote.
Meanwhile, during a visit to Israel, former Auditor General Jack Wagner heard of Ravenstahl's withdrawal and decided to throw his hat in the ring telling KDKA, "I changed gears very quickly and made the decision in Israel to basically run for the Democratic primary and the Democratic nomination for mayor."
City Councilman Bill Peduto is currently the best-funded candidate in the race; he hit the half-million mark last week.
According to the first poll, taken by Keystone Analytics on March 7th, Peduto leads the race with 30%.  Wagner follow Wagner with 20% and Lamb is in third place with 13%.
The Allegheny Labor Council made their endorsements last Friday.  The council declined to endorse a candidate for mayor.  Theresa Kail-Smith, Natalia Rudiak, R. Daniel Lavelle, and Jeanne Clark were endorsed for Districts 2, 4, 6, and 8 respectively.
In the race for Superior Court, the Council may only make a recommendation for endorsement to the Pennsylvania AFL-CIO; they chose Allegheny County Common Pleas Judge Jack McVay.