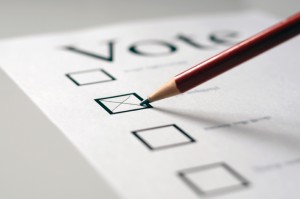 To help out pro-choice voters who want to know where Pennsylvania's candidates stand on the issue, Planned Parenthood PA has released a voter's guide rating participants in each race based on their answers to a questionnaire the group sent out.
Governor, lieutenant governor and general assembly Senators and representatives are rated using two sections: their position on safe, legal abortions and their position on family planning and reproductive health. Representatives in Congress had their answers for only the latter category listed.
The interest group reaffirmed their official endorsement for Pennsylvania's gubernatorial race in Rep. Allyson Schwartz. Not only is she pro-choice, but her views also line up with Planned Parenthood's on family planning and reproductive health, according to the release sent out with the list.
In the Democratic primary for lieutenant governor, the organization urges voters to vote against someone, as opposed to drumming up support for him. Planned Parenthood believes that Mark Critz "is wrong on family planning, abortion access, equality and environmental protections."
This isn't the first time that Critz has received an anti-endorsement in this primary. At the end of April, Equality PA came out with their statewide list of endorsements. Not only was Critz not on it, but they also encouraged voters to not lean his way come May 20 due to his voting record regarding equal rights for the LGBT community and women.
Looking at some of the state's bigger races, Planned Parenthood has made some choices that range from the obvious to the not-so clear. In PA-6, Democrat Manan Trivedi committed to supporting the group's causes, while Ryan Costello didn't respond to the questionnaire. Over in the 8th district, both Kevin Strouse and Shaughnessy Naughton support the same views while Rep. Mike Fitzpatrick (R-Bucks) opposed.
Amidst the raging battle in PA-13, each of the Democratic candidates for the primary took time to respond to the questionnaire. Physician Val Arkoosh, former Congresswoman Marjorie Margolies, State Rep. Brendan Boyle and State Senator Daylin Leach are all listed as supporting Planned Parenthood's cause, though Boyle has an asterisk next to his rating. This means that while he has a mixed voting record, Boyle returned a "100% pro-choice questionnaire." Lt. Gov. candidate and State Senator Mike Stack earned the same asterisk.
This rating has quite the timing, as Boyle's opponents have begun calling him out on his voting record regarding abortions and women's health care. Leach released an ad claiming Boyle doesn't believe in a woman's right to choose only last week. A few days before that, Arkoosh sent out a mailer questioning Boyle's views on abortion based on his voting record in the House.
In his interview with PoliticsPA, Boyle asserted that he supported Roe v. Wade "and it would be tragically criminal to interfere with the choices between a woman and her doctor."
Planned Parenthood stated that their endorsement process has yet to be completed, and they will continuing supporting more candidates after the May 20 elections. Candidates on the voter's guide who already have the group's endorsement are pointed out with a blue arrow.