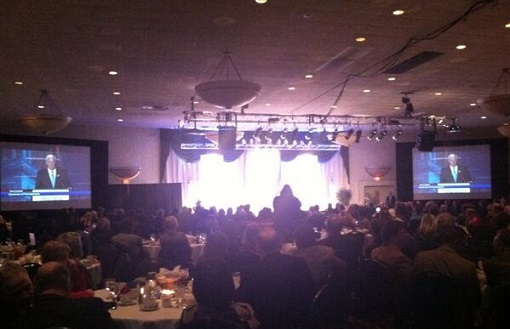 Conservatives gathered 700-strong for the Pennsylvania Leadership Conference this weekend and dined in the ballroom of the Camp Hill Radisson for the annual Liberty Dinner.
After dinner, they were treated to an address from Republican Governor Tom Corbett.
He promoted his economic record and knocked his opponents gently, which resonated well with the crowd.
"Despite what we came up against, we have reduced the deficit and we are putting people back to work in PA and thats just in 3 years. Imagine what we could do, with your help, in 8 years," Corbett said. "No more kicking the can down the road to make the fiscal problems worse. We've seen enough of that in Harrisburg and we've seen a lot of it in DC."
Corbett went on to equate the four Democrats running against him to the President Obama and Nancy Pelosi type liberals that are the very antithesis of this weekend's conference. He talked about creating a friendly business climate by reducing taxes and helping the job creators.
"All of this is part of the record I will submit to the voters in a few months and I hope they will honor me with a second term, even if I haven't managed to be the most popular at all times," Corbett stated, reiterating a line from one of his commercials that he didn't come to Harrisburg to make friends, but rather to make tough decisions.
He ended his remarks with a call to arms.
"Whichever opponent they send my way, I'll be ready. I'll run on the issues," Corbett said as he finished his address. "We're going to make our case to the people of Pennsylvania and we're going to win on November 4th."
But before the address, attendees were treated to a video that can only be described as PLC catnip. It opened with a clip of President Ronald Reagan beseeching Gorbachev to tear down the Berlin Wall and then examined the history of the Pennsylvania Leadership Conference to the tune of Neil Diamond's "Coming To America."
"While we had a conservative conference starting in 1989, we had it in the years up to 2004, but a seat change occurred in 2004 and then the candidacy of Pat Toomey opposing Arlen Specter," Fred Anton, described as the grandfather of PLC, said in explanation of the fervent rebirth of PLC. "There was a group in the Republican party that was beginning to turn to the right. They were disappointed in Arlen for being, what I would call, left of center."
The dinner was preceded by a reception with conservative author Jonah Goldberg, conservative author and pundit who regularly contributes to Fox News, National Review and a series of large print papers.
Goldberg spoke again after Corbett's address and cracked jokes at the expense of Obama, Democrats and other variations of those on the left.
Conservative festivities resume tomorrow morning at 7 a.m. for the Freedom Breakfast.