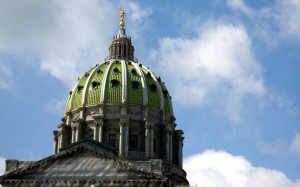 To address both corruption and reform in the same article about Pennsylvania presents a certain linguistic irony. The latter, corruption, has been among the most common terms used to describe Pennsylvania politics while the latter, reform, has been among the least frequently encountered phenomenon associated with the state.
Nevertheless, the topics do belong together, and never more than during the early 21st century. It has been in the new century that both corruption and reform have become ubiquitous themes in state politics after an absence of almost a quarter century.
As the 20th century closed, the specter of widespread public corruption seemed a vestige of Pennsylvania's sordid past.  The bad old days, in which corruption and politics were virtually synonymous, seemed over.  Indeed, not since a spate of Shapp (1971-1979) administration officials were convicted on various corruption charges had there been significant corruption within the executive (gubernatorial) branch of state government.
True, three independently elected statewide officials, one attorney general, one auditor general and one state treasurer had been tried and convicted of public corruption crimes.  And a smattering of local officials had run afoul of the law as well as a couple of legislators. But by and large, at the beginning of the 21st century Pennsylvania state government looked as if it had outgrown its historical penchant for producing corrupt politicians.
It did not, however, look that way long into the new century.
The executive branch remained free from major corruption, but that was not the case for the remaining two branches of government, the judiciary and the legislative. The local judiciary was wounded, grievously, when two Luzerne County judges were convicted in the notorious "cash for kids" scandal in which they accepted millions of dollars in bribes from a builder of juvenile facilities in exchange for sentencing juveniles to long and disproportionate sentences. Statewide, a Supreme Court Justice was convicted of campaign illegalities and removed from office.
But it was the state legislature that produced the bulk of corrupt behavior. Beginning in 2005, the state attorney general began a series of prosecutions of state lawmakers and legislative staff that came to be known as "bonus-gate." Bonus-gate signaled the unwelcome return of systematic corruption to Pennsylvania, prompting one group to name Pennsylvania the fifth most corrupt state while another gave the state a "C" grade for public integrity.
It is important to note that the bonus-gate era was different from previous periods of corruption. Earlier prosecutions had focused mostly on corrupt politicians enriching themselves or others by elaborate kickback-rackets, and other schemes. But bonus-gate focused primarily on allegations that several legislative leaders and high placed staffers systemically used the employees and resources of state government to support campaign activities–in violation of state law.
Different also was that it was state prosecutors searching out systematic corruption rather than the federal government alone, the prevailing practice of earlier eras. Not that the "feds" were entirely absent from corruption probes, most notably the successful conviction of Philadelphia power broker Sen. Vince Fumo, as well former Senate leader Robert Mellow who pleaded guilty of conspiracy to commit mail fraud and the filing of a false tax return. Other instances of public malfeasance both in state government and local government left no doubt that corrupt behavior by Pennsylvania public officials was alive and well into the new century.
As corruption was being re-discovered, reform impulses began to express themselves in the new century — to a degree unprecedented in modern state history. Reform has always been difficult to accomplish in Pennsylvania – it's slow, plodding and limited in scope. State government, virtually unchanged since a 1968 "limited" constitutional convention, remains badly outdated into the 21st century, while local government, virtually a vestige of the 19th century, urgently needs modernization.
The anti-reform ethos, long a staple of state politics, changed dramatically mid-decade when   the state legislature surreptitiously gave itself a bitterly controversial pay raise. This touched off a firestorm of protest that ultimately put reform front and center on the state's policy agenda. Suddenly, it seemed possible to imagine enacting reform proposals that had been ignored for decades. Several groups emerged pushing an ambitious reform agenda, including a call for a constitutional convention, campaign, ethics and lobbyist law reforms, as well as for policies for more citizen involvement in state government.
Alas, by 2014 the golden age of state reform has been more anticipated than achieved. In particular, the once heady expectations of constitutional reform have been disappointed.  It was no longer clear to what extent the reform impulse was still alive. Despite an initial groundswell for reform only a hand full of reform proposals, and those mostly procedural, have been acted on.
Now into the second decade of the new century, corruption has staged a spectacular encore in state politics, reform once again seems bogged down, a casualty of inertia and a powerful coalition of vested interests wanting no part of it.
(This article has been adapted from Madonna and Young's recently published political history of Pennsylvania in the 21st century: Political Pennsylvania: The New Century.)