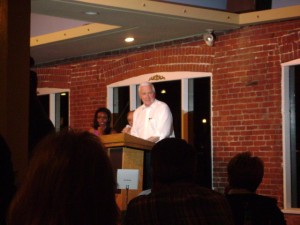 Every August for the last 24 years, Daily News columnist Stu Bykofsky hosts a charity event for the Delaware Valley chapter of Variety, a group that serves children with disabilities.
The event draws in elected officials and candidates from around the state, raises money for a great cause, and provides the audience with the best entertainment imaginable; watching politicians try to be funny.
As you would expect, a few participants did quite well, a couple bombed and the vast majority just wanted to steer clear of any real controversy. Without further ado, we run through the fourteen participants in speaking order.
1. Megan Rath: Republican nominee in PA-1. The little-known Republican had nothing to lose since she's running in Rep. Bob Brady's district, currently rated D+28, and appropriately started off guns blazing. Early on, she asked Brady for help getting out of a traffic ticket while he stoically stood in the back until cameras began snapping and the Congressman forced the smallest of smiles. She also had the first line of the night contender, referring to Philly's 2016 bid for the DNC: "Finally something to make the Wing Bowl look classy."
2. Mike Fitzpatrick: Republican Congressman in PA-8. The GOP Rep. came prepared with a solid joke about a woman getting out of a speeding ticket to start out. Afterward, he relied on the traditional Republican foil, House Minority Leader Nancy Pelosi. Bringing up Pelosi's encounter with his colleague Tom Marino, Fitzpatrick launched into a number of jokes about the former Speaker's facial appearance.
3. Robert Brady: Democratic Congressman in PA-1. The powerful Philly Congressman, who spent the past two days pitching the city as the host of the 2016 DNC, was not as successful with his jokes as he usually is in informal occasions. Yet when he heard that the fundraiser was $3,000 short of their $500,000 goal, he worked the crowd to get $500 from the Governor, Wolf and various Congressmen. He was able to raise enough cash and sparked a memorable moment when the Governor insisted Wolf could afford more than he could and Brady retorted "That may be your biggest fear, sir."
4. Armond James: Republican nominee in PA-2. James did not show up, prompting Bykofsky to call him out because his staff begged to be included in the event.
5. Brendan Boyle: Democratic nominee in PA-13. The State Rep. is running to succeed Allyson Schwartz in conformably progressive (D+13) district. Perhaps as a result, Boyle had one of the best performances of the night. He described his day, which involved visiting a Philadelphia 76ers shoot-around, testing ammo-less guns and dining with Gov. Corbett. "You know it's not often that in one day you get to see three things that have no shot," he said. Boyle continued hammering the Governor by stating that things were going so bad for him that Phillies GM Ruben Amaro wanted to give him a long-term contract.
6. Pat Meehan: Republican Congressman in PA-7. Much like his SEPA colleague Fitzpatrick, Rep. Meehan relied on Pelosi as a joke target, saying she is on "I can't move my face-book." He also unfortunately told a Paris Hilton joke that was more suited for 2004 than 2014. He finished by issuing an ALS ice water challenge and pouring a jug of water on his head to the tune of "Cold as Ice."
7. Chaka Fattah: Democratic Congressman in PA-2. Fattah, like his opponent, also didn't appear. "I wonder if he's coaching his son," Daily News columnist Jenice Armstrong deadpanned.
8. Kevin Strouse: Democratic nominee in PA-8. Strouse drew the short straw as he took the podium after headliner Joe Conklin. Strouse's left arm was also in a sling which pretty much ruled out any physical or demonstrative material. The candidate used his time to humorously summarize his personal background, at one point joking that "I can't actually tell you how much fun it was [in the CIA]. No really, I can't tell you how much fun it was."
9. Ryan Costello: Republican nominee in PA-6. Costello literally went "old-school" imitating Johnny Carson's famous "Carnac the Magnificent" routine. His best was "Rocky and The Sting. What are two Academy Award-winning Best Pictures that best describe Kathleen Kane's first two years in office." He also took a pointed shots at former Gov. Ed Rendell, President Obama, Sarah Palin, Michele Bachmann, and Rick Santorum.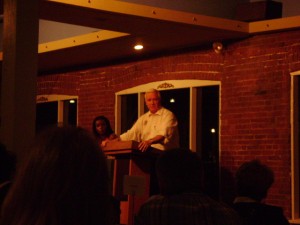 10. Tom Corbett: Republican Governor of PA. The Governor was in the unique position of having just performed a similar comedic act in Pittsburgh the night before, so a lot of his act was repeated. In addition to the customary shots at Tom Wolf, the Gov also jabbed Daylin Leach, Nancy Pelosi and Mike Stack. While he wasn't one of the best comedians, Corbett showed a lot more energy than his reputation would suggest. Altogether, he seemed to be enjoying himself.
11. Mary Ellen Balchunis: Democratic nominee in PA-7. What to say about this? In lieu of a routine, the candidate decided to perform her own version of "I Will Survive" along with staff members. When I say they did their own version, I mean they did their own complete rendition with original lyrics. Suffice to say it left a lot of puzzled faces, although I suspect Rep. Pat Meehan was wearing a full smile.
12. Manan Trivedi: Democratic nominee in PA-6. Trivedi hit the jackpot in terms of slots and quickly took advantage. "I want to thank Mary Ellen for that because, no matter what I do, it can't be worse than that!" He went on to urge the Governor to "just close your eyes" whenever protesters in Philadelphia become too burdensome. Trivedi then targeted Wolf, saying he was able to identify the candidate's famous Jeep because it's license plate "was registered in Delaware." Comparing himself to Wolf, he lamented "He grows a beard and he's everybody's uncle. I grow a beard and I'm on the terrorist watch-list."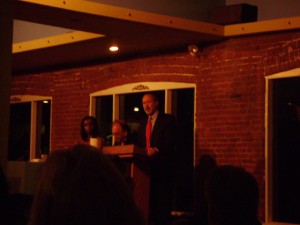 13. Tom Wolf: Democratic nominee for Governor. Wolf stayed true to his campaign persona, describing himself as a boring guy and proving it. Like Gov. Corbett, he repeated jokes from his Pittsburgh performance. He had one solid joke, though, asserting "If you think calling up and asking strangers for a couple thousand dollars bucks is tough, you should try asking your wife to pay $10 million out of your family's rainy day fund." Ultimately, though, Wolf was trying to avoid any mistakes and accomplished his goal.
14. Dee Adcock: Republican nominee in PA-13. Poor Dee, not only did he draw last but he had to follow Wolf. Not surprisingly, a number of people (including Gov. Corbett) left during Adcock's speech. The candidate noted early on that his would likely be the case and tried to poke fun at Allyson Schwartz, claiming her new job would be as a Walmart greeter, but it was too uphill a climb. It should be good practice for the PA-13 general election though.