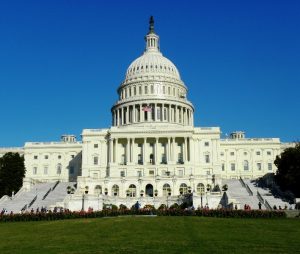 When we last looked at the state of congressional campaigns in May, we noted that Pennsylvania offered slim pickings for those who like to see competitive congressional contests. Since then, even more seats have fallen on our competitiveness scale, although one district has climbed on our list.
As was the case in May, Pennsylvania is home to one marquee competitive contest in which both parties are heavily engaged – the open-seat, Republican-held 8th District. Meanwhile, another Republican-held open seat – the 16th – has become tighter than expected, a hopeful sign for the Democrats.
After that, though, the Democrats will have to count on a strong downballot drag from Republican presidential nominee Donald Trump to have any chance of flipping seats – something that's possible, but far from guaranteed, especially if moderate Republican voters who dislike Trump decline to take out their frustrations about Trump on downballot Republicans.
As usual, we have based our analysis on discussions with partisan and non-partisan observers. The current partisan breakdown in the delegation is 13 Republican seats and five Democratic seats. Contests below are listed in descending order of the likelihood of a party switch in the general election.
GENUINELY VULNERABLE
8th District: Open seat (GOP Rep. Mike Fitzpatrick is retiring)
The open seat in the 8th district, which includes Bucks County and portions of Montgomery County, has been the big congressional race in Pennsylvania from the beginning of the 2016 cycle, and it still is. The GOP nominee is Brian Fitzpatrick, the brother of the retiring incumbent, Mike Fitzpatrick. He faces Democratic state Rep. Steve Santarsiero. Both candidates will have enough money to be competitive, particularly with the National Republican Congressional Committee and the Democratic Congressional Campaign committee spending upwards of $2 million on their respective candidates. Santarsiero and his allies are trying to emphasize that Brian Fitzpatrick is distinct from his brother, and that he has backed Trump. The Republican nominee, for his part, is seeking to paint Santarsiero as a career politician who's voted for tax increases, and is touting his own resume as an FBI agent who worked on counter-terrorism. In a vacuum, this is a swing seat. But in a year with Donald Trump at the top of the ballot, Fitzpatrick will likely have to outrun his party's presidential nominee by a substantial margin to notch a victory. Observers on both sides say the race could go either way.
POTENTIALLY VULNERABLE
16th District: Open seat (GOP Rep. Joe Pitts is retiring)
While this Lancaster-based district remains less likely to switch party control than the 8th district, it has rocketed up our list of vulnerable seats since our last ranking. Pitts, a solidly conservative Republican, had a lock on the district for years, even though the seat's growing competitiveness – Mitt Romney won it with just 52 percent in 2012 – has attracted Democratic efforts to flip the district in recent cycles. After the seat came open for 2016, state Sen. Lloyd Smucker won the GOP primary and the Democrats put up Christina Hartman, a former official with two human-rights organizations, the National Democratic Institute and Freedom House. Somewhat unexpectedly, Hartman finished the second quarter neck and neck with Smucker in cash on hand, and she's been granted top-tier status by the Democratic Congressional Campaign Committee and support from EMILY's List. Winning the seat will still be an uphill fight for the Democrats, but if they can get an extra boost from dissatisfaction with Trump, a victory is no longer far-fetched.
POTENTIALLY VULNERABLE
6th District: GOP Rep. Ryan Costello
The slightly Republican-leaning district – which spans portions of Montgomery, Chester, Berks, and Lebanon counties – has slid down our vulnerability list. In theory, Costello should be at greater risk in this swingy district. But the Democratic candidate, Mike Parrish, lags the well-funded incumbent badly in fundraising, and this contest has all but slipped off the two parties' radar screens, despite the possibility of a Trump drag on Republican candidates. Independent groups show no sign of making major investments either. A massive Democratic wave could pull Parrish across the finish line, but that possibility is looking more remote than ever.
MINIMALLY VULNERABLE
Two seats that had qualified as "potentially vulnerable" in our previous rankings have slipped even further down our list – the Delaware County-based 7th District, represented by Republican Pat Meehan, and the Lehigh Valley-based 15th District, represented by Republican Charlie Dent. Both races involve swing territory where Democrats have high hopes for Hillary Clinton, but in each case, the Democratic nominee — Mary Ellen Balchunis and Richard Daugherty, respectively – is badly underfunded, with almost no attention from national and outside groups. Both candidates have also distanced themselves from Trump, hoping to inoculate themselves. Along with the 6th District, the 7th and the 15th amount to enormous missed opportunities for the Democrats this year.
OTHER SEATS
A few other seats have failed to become competitive for a party switch even though they have a major-party challenger. One is the northeastern Pennsylvania-based 11th District held by GOP Rep. Lou Barletta; the other is the southwestern Pennsylvania-based 12th District held by GOP Rep. Keith Rothfus. Both districts have a notable GOP tilt, and their demographics are a good fit for Trump, whose efforts will likely boost turnout among GOP-friendly voters – the reverse of the trends in southeastern Pennsylvania.