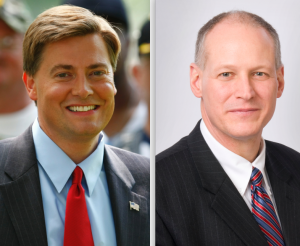 A poll released Wednesday suggests Mark Critz has the momentum in his fratricidal showdown with fellow Rep. Jason Altmire. He trails Altmire 43 to 39, the narrowest gap of any poll yet.
The Tribune Review/Susquehanna Research and Polling survey is the first public poll of the race; previous numbers come only from each campaign's internal polling. It suggests the race is narrower than previous polls have concluded.
Critz Poll, Mar. 26: 7 points. Altmire 45, Critz 38.
Altmire Poll, Mar. 16: 24 points. Altmire 55, Critz 31.
Critz Poll: Feb. 16: 10 points. Altmire 47, Critz 37.
Altmire poll, Jan. 20: 16 points. Altmire 50, Critz 34.
Critz has had a strong few weeks, most notably with his endorsement from former president Bill Clinton. Both campaigns have been on television, with Altmire spending steadily more.
Reports Mike Wereschagin of the Trib:
"This will be an excellent case study of what the union endorsement is worth in Western Pennsylvania," said Jim Lee, president of Susquehanna Polling. "You can't underestimate the power of the unions to mobilize people."

Larger unions' voter turnout drives, honed over decades of street-level campaigning, could swing a close election in Critz's favor, Lee said.

"I think the Critz folks can definitely close the gap," Lee said. But, "there's still a stronger case to be made here for Altmire's victory."

…

More than half the district's Democrats live in Allegheny and Beaver counties, Lee said. In Allegheny County, 60 percent of Democrats view Altmire favorably, compared with 33 percent who view Critz favorably. In Beaver County, 71 percent view Altmire favorably, compared with 32 percent for Critz.
The poll of 400 likely Democratic voters was conducted from April 13 to 15 and has a margin of error of +/- 4.9 percent.
The Republican candidate is Keith Rothfus, an Allegheny County attorney who narrowly lost to Altmire in 2010.