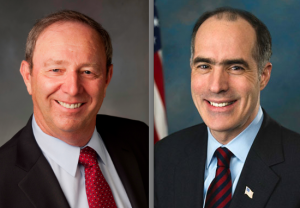 Bob Casey maintains a solid lead over Republican rival Tom Smith according to the latest poll from Quinnipiac. The freshman Senator leads the former coal company owner 49 to 32 percent.
The result is not surprising given the absence of paid media and near absence of earned media on the race. Today's numbers simply reinforce Quinnipiac's previous poll of the race which showed Casey up 51 to 32 over Smith.
Several polls over the past month have painted a similar picture of the race. Casey leads by double digits in 4 of 5: June 12th's Quinnipiac (51 to 32); a Franklin & Marshall poll released on June 6 (Casey 41, Smith 21); and a Public Policy Polling survey released on May 23 (Casey 49, Smith 33). The lone exception is Rasmussen. Their poll from May 24 showed Casey leading 48 to Smith's 41.
Meanwhile, Tom Corbett's approval rating remains low. 50 percent of voters disapprove his performance as Governor, while just 35 percent approve. That's a tic worse than Q-Pac's numbers from mid June, which showed the Guv net negative at 47 to 36 percent.
"Gov. Tom Corbett continues his steady dive in popularity, from a 50 percent approval rating last September down to numbers that rival the embattled governors of Florida and Ohio," said Tim Malloy, assistant director of the Quinnipiac University Polling Institute.
Quinnipiac surveyed 1,252 Pennsylvania voters via live interviews on land lines and cell phones. The margin of error of is +/- 2.8 percent.