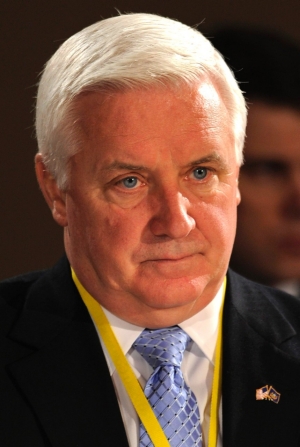 Governor Tom Corbett is notably less popular now than he was in December, according to the latest poll by Quinnipiac. His job approval then was 47 to 34 percent disapproval. Today, it's a 41 to 41 percent tie.
In a massive 35 point swing, Democratic voters' opinions turned more sharply against Corbett. They were evenly split about the Guv's performance in December's poll.
Women give Corbett a split 38 to 39 percent approval, down from 44 to 36 percent in December. Men approve 45 to 42 percent, down from 51 to 32 percent.
"After a honeymoon as one of the country's more popular new Republican governors, Tom Corbett takes a big hit in his job approval," said Tim Malloy, assistant director of the Quinnipiac University Polling Institute.
"A call for cuts in state funding to its universities may have hit a nerve with parents fearful tuitions could rise."
Voters disapprove of the state legislature by a margin of 54 to 27 percent. Republicans are split 41 to 41 percent, Democrats disapprove 63 to 22 percent, and independents disapprove 60 to 24 percent.
Issues:
Pennsylvanians oppose the ultrasound mandate for women seeking abortions 48 to 42 percent, with women more in support than men (men oppose it 51 to 39 percent, women are split 45 to 45 percent). Both genders oppose a trans-vaginal ultrasound mandate, 64 to 23 percent.
On the issue of abortion in general:
Legal all cases: 25 percent
Legal most cases: 29 percent
Illegal most cases: 23 percent
Illegal all cases: 14 percent
On the question of funding for state affiliated colleges and universities, voters disapproved Corbett's approach 53 to 27 percent. Voters without a college degree by  a similar margin, 50 to 27 percent. Voters oppose proposed cuts 66 to 29 percent; those with and without college degrees answered almost identically. By a whopping 80 to 19 percent, voters are concerned that cuts would mean some students are unable to attend college.
From March 7 to 12, Quinnipiac University surveyed 1,256 registered voters with a margin of error of +/- 2.8 percentage points. Live interviewers call land lines and cell phones.