By Keegan Gibson, Managing Editor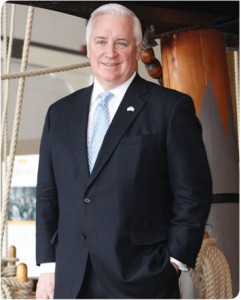 According to the latest survey by Quinnipiac, Governor Tom Corbett enjoys relatively steady and relatively favorable approval from Pennsylvania voters.
Following similar results from a month ago (46-31 on Nov. 10), the poll shows that the Governor gets high marks from Republicans (65 to 20 percent); moderate support from Independents (45 to 35 percent), and even does decently among Democrats, who disapprove the job he's done by just 7 points (43 to 36).
The poll focuses mainly on the recent sex abuse scandal at Penn State. The Governor's numbers there are less impressive: voters approve his handling of the situation just 38 to 36 percent. It is in line with another recent survey from Public Policy Polling which shows voters overall favor longtime coach Joe Paterno's firing (52 to 43 percent).
PSU Roundup:
By a much larger 74 – 13 percent margin, voters support the firing of University President Graham Spanier.
Football has too much influence at Penn State, 65 percent of Pennsylvania voters say. Another 4 percent say "not enough influence" and 25 percent say "about the right amount of influence." But voters say 67 – 18 percent that it's a "bad idea" for Penn State to decline a bowl bid.
Voters say 48 – 42 percent that the state should not financially compensate the alleged victims if Sandusky is found guilty.
From November 28 – December 5, Quinnipiac University surveyed 1,453 registered voters with a margin of error of +/- 2.6 percentage points. Live interviewers call land lines and cell phones.