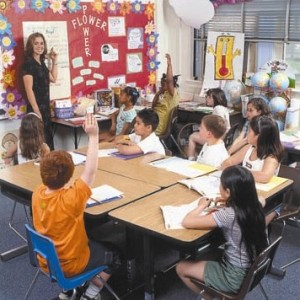 A new survey by pro-education groups showcases deep concerns about cuts to the state's schools. They hope to pressure lawmakers to consider education funding a top priority during the budget negotiations this week.
The poll, conducted by the Democratic firm Lake Research, found that education and public school funding was voters' top concern, beating out jobs and the economy 28% to 27%.
77% of likely Pennsylvania voters are concerned about cuts in funding for PA's public schools including 48% who are very concerned. Women are disproportionately interested in the issue: 85% of female respondents are concerned with the cuts, including 55% who are strongly concerned.
The poll was commissioned by the Pennsylvania Budget and Policy Center (PBPC) and the Public Citizens for Children and Youth (PCCY). Both of them favor more funding for public education.
The goal of the poll according to Sharon Ward, the Director of the PBPC was to "bring attention to education during the current budget negotiations."
Voters have a favorable impression of public schools 56% to 35%. They view their own area's public schools favorably 69% to 20%.
As with any poll commissioned by advocacy groups or conducted by a partisan pollster, the results should be taken with a grain of salt. Commissioning groups have discretion over the phrasing of questions, and the full cross-tabulations are rarely released.
For example, the pollster read respondents a description of the pro-and-con arguments over education funding, and the summary of arguments made by education funding advocates is longer and more cogent than the case presented on behalf of Republicans.
(The GOP's case being, mainly, that education funding cuts were precipitated by expiring federal stimulus funds).
Respondents favored the advocates' message 55% to 30%.
Presented with a variety of proposals that included increases to the sales tax or income tax, respondents favored more funding.
The pollster surveyed 604 likely 2014 general election voters from June 19 to June 23. The margin of error is plus or minus 4%.
40% of respondents identified as Democrats, 33% as Republicans and 21% as independents or members of a third party.