By Ali Carey, Contributing Writer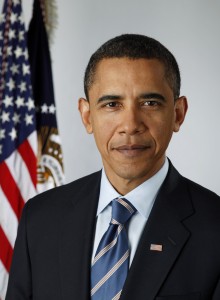 As if we needed more evidence that Pa. is going to be a crucial battleground state in next year's presidential election, a recent Quinnipiac University poll asked Florida, Ohio and Pennsylvania voters their opinions of the potential 2012 presidential candidates.
Every president elected since 1960 has won at least two of the three swing states.
Quinnipiac's poll shows that President Obama would defeat either of the two Republican front runners if the election were held today in Pennsylvania. He tops former Massachusetts Governor Mitt Romney 46 to 43, and former House Speaker (and Harrisburg native) Newt Gingrich 48 to 40 (hence the headline).
In a GOP primary, Gingrich has a double-digit lead over Romney: 31 to 17 percent in the full field.
Before Obama supporters celebrate too much, the poll shows that the President's low approval ratings are sticking around. Pennsylvania voters disapprove 52 – 43 percent of the job Obama is doing and split 47 – 49 percent on whether he deserves re-election.
Gingrich's approval ratings have increased, while President Obama's support in the three battleground states as weakened.  The president still leads Gingrich in Pa., however Quinnipiac deemed Ohio and Fla. "too close to call."
Assistant director of the Quinnipiac University Polling Institute Pete Brown held a press conference to discuss the results of this recent study Thursday morning at the National Press Club in Washington DC.
"Former House Speaker Newt Gingrich is no longer just the flavor of the month since his boomlet has now stretched from November into December and voting begins in Iowa in less than four weeks," saidBrown.
Brown believes Gingrich polls better among independent voters compared to his fellow GOP presidential hopefuls, making him a more viable challenger to Obama in a general election.
Quinnipiac University chose to study voter opinions in Florida, Ohio and Pennsylvania because of their strong influence in the Electoral College.
Last month's Quinnipiac "Swing State Poll" of Florida, Ohio and Pennsylvania voters found that Obama and Romney were virtually tied.
The poll surveyed 1,453 Pennsylvania voters with a margin of error of +/- 2.6 percent, including 578 Republicans with a margin of error of +/- 4.1 percent.