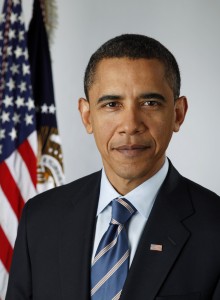 President Obama isn't running away with it, but a Quinnipiac poll shows him leading both GOP presidential contenders in Pa. However, his numbers are slightly down from earlier this month, and the race is closer in Pa. than Florida and Ohio.
Obama leads Mitt Romney 45 to 42 percent; he bests Santorum 48 to 41 percent.
It shows growth for Romney and a decline for Santorum since a Q-Pac poll earlier this month. That survey showed Obama leading Romney 46 to 40 percent, but statistically tied with Santorum 46 to 45 percent.
"Although the lead Romney had over Obama in trial matchups late last year has disappeared, he remains the stronger of the two major GOP contenders. Voters in Pennsylvania still see Romney as better able than the president to fix the economy and both Romney and Obama are stronger than Sen. Rick Santorum on that measure in each state," said Peter A. Brown, assistant director of the Quinnipiac University Polling Institute.
In Florida, Obama tops Romney 49 to 42 percent and Santorum 50 to 37 percent. In Ohio, Obama leads Romney 47 to 41 percent and Santorum 47 to 40 percent.
However, Obama's job approval in Pa. is negative, 50 to 45 percent. So is his "deserve re-elect," with voters 50 to 46 percent against.
Those are both slightly worse than two weeks ago. In the Q-Pac poll earlier this month, Obama's approval was negative 49 to 47 percent. His he re-elect number was the same: 49 percent against, 47 percent in favor.
Voters say 48 – 42 percent that Romney would do a better job on the economy than Obama, but Obama tops Santorum 49 – 41 percent on this issue.
And luckily for the President, just 17 percent of Pa. voters blame him for gas prices. 34 percent blame oil companies, while 25 percent blame oil-producing countries. 15 percent blame supply and demand.
The poll was conducted via live interviews via land lines and cell phones from March 20-26. The results reflect 1,232 Pennsylvania voters with a margin of error of +/- 2.8 percent.