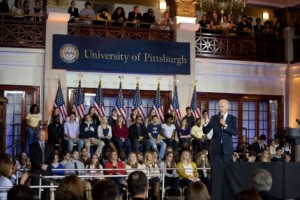 Even with his approval rating falling nationally, Vice President Joe Biden can always take solace in high favorability numbers in his home state of Pennsylvania, right?  Well, according to Public Policy Polling's latest survey, voters in Pennsylvania are split in their opinion of Scranton-born Biden, with 44 percent approving of him and an equal number disapproving.
Biden's approval numbers roughly match that of President Barack Obama, with independents approving of Biden 46 to 37 percent compared to President Obama whom voters approve 47 to 41 percent.
Despite the Biden's mixed performance reviews, Pennsylvania voters overwhelmingly favor him among recent presidential candidates from the state. 47 percent of voters favored Biden, with 25 percent picking Rick Santorum of Penn Hills, 14 percent picking Ron Paul of Pittsburgh, and Harrisburg's own Newt Gingrich finishing last with 11 percent.
Most of the results fell along party lines, with 73 percent of Democrats favoring Biden and 46 percent of Republicans favoring Santorum, the top among former Republican presidential candidates in the state.
In addition to Biden's positive numbers, voters in the state also favor his hometown of Scranton; also known as the home of the Scranton Branch of Dunder Mifflin Paper Company from NBC's "The Office." By a margin of 37 to 15 percent, voters favor Scranton and the fictional company 17 to 9 percent.
But PA's most highly regarded city is Pittsburgh, with a 40 point net favorable reputation, 57 to 17 percent.
Defeating the odds, Harrisburg actually has a net favorable reputation in PA: 38 to 34 percent. Interestingly, according to PPP, it's the only city disliked by its own area code and liked by others.
And then there's Philadelphia.
Despite having the largest urban population in the state, voters have an unfavorable view of the city by a margin of 42 to 37 percent.  Residents with area codes surrounding the city have a favorable view of it, but as you travel the interstate west, the numbers decline.
Here's the full list of PA cities, percent favorability to percent unfavorability:
Pittsburgh: 57 to 17
Bethlehem: 42 to 10
Erie: 41 to 11
Scranton: 37 to 15
Allentown: 34 to 22
Reading: 31 to 26
Harrisburg: 38 to 34
Philadelphia: 37 to 42