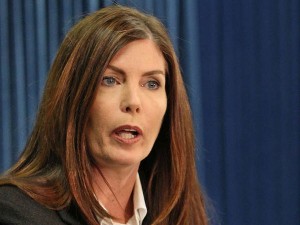 More than anything, Pennsylvanians are unsure how they feel about Attorney General Kathleen Kane.
A new Morning Call/Muhlenberg College poll questioned Pennsylvania voters on Kane's job performance and whether they believe she should be re-elected or impeached after what has been a turbulent term in office.
The poll comes in the midst of an investigation into Kane, who came under fire in January when a grand jury recommended she be charged for perjury and contempt of court. Kane has insisted she did "nothing illegal" and has pledged to continue serving her term.
The Morning Call/Muhlenberg survey found 40 percent of voters uncertain about whether Kane deserved a second term and 35 percent unsure about whether impeachment proceedings should be pursued. In addition, 41 percent had no opinion of her job performance.
Among those who were decided, though, Kane received lukewarm support. A quarter of voters approve of her job performance so far, while 33% do not. Just over a quarter (27%) deemed Kane worthy of a second four-year term, as opposed to 33% who said she doesn't deserve one.
While a sizable minority (29 percent) supported Kane's impeachment, 38 percent of voters were opposed to the idea.
Voters were polled regarding a hypothetical election, as well. Matched up against a generic Republican candidate, 31% would vote for that candidate, and 29% would support Kane. A smaller amount (19%) indicated their vote would depend on the Republican candidate, while 22% were unsure of their vote.
Chris Borick, a pollster and political scientists from Muhlenberg, said the high number of uncertainty among voters is typical of positions like Attorney General that don't have as high of a state profile.
"Given the type of year that she's had, these numbers are probably not as bad as one might expect," Borick told The Morning Call. "A very large portion of Pennsylvanians simply haven't been following her performance in office enough to really weigh in."
For Kane's approval rating, the Morning Call/Muhlenberg College poll surveyed 403 Pennsylvanians from Jan. 28 to Feb. 11 with a margin of error of +/- 6 percent.
A smaller number was questioned about Kane's re-election and potential impeachment. The margin of error for this survey of 351 registered Pennsylvania voters is +/- 7 percent.