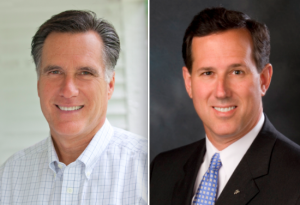 Rasmussen has a new set of numbers in the GOP presidential primary in Pennsylvania. While they show Rick Santorum in the lead, 42 to 38 percent, they echo other findings that indicate Mitt Romney is catching up.
Ron Paul had 7 percent, Newt Gingrich has 6 percent.
Several recent polls (Franklin & Marshall, Mercyhurst and Quinnipiac) had showed Santorum slipping; a Public Policy Polling survey released Wednesday night showed Romney with a 5 point lead.
The survey includes responses from 750 likely Republican primary voters. It was conducted on April 4, 2012 by Rasmussen Reports via automated dialing. The margin of sampling error is +/- 4 percent.