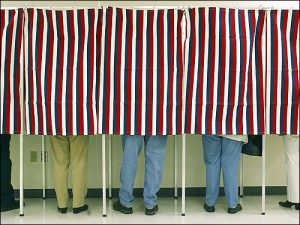 Our collection of stories on yesterday's statewide races.
Election Results
PA-Sen: Toomey Re-Elected: The Senator has won a second term.
Shapiro Wins Attorney General Race: The Democratic nominee emerges victorious.
DePasquale Secures Second Term: The Auditor General easily wins re-election.
Torsella to Be Next Treasurer: The Democratic nominee wins the State Treasurer contest.
PA-8: Fitzpatrick to Succeed Brother in Congress: The Republican nominee held onto the family's seat.
PA-16: Smucker Elected to Congress: The open seat will remain in GOP hands.
Non-Election Results
The Clintons and Obamas Join Forces For Philly Rally: The twin families of Democratic politics speak in Philadelphia on Election eve.
Reader Poll: Trump Finishes Ahead in Final Survey: Our readers expect an upset tonight.
Reader Poll: Who Should the Republicans Nominate for Governor in 2018?: We ask which way the GOP should go as it tries to retake the Governor's mansion.