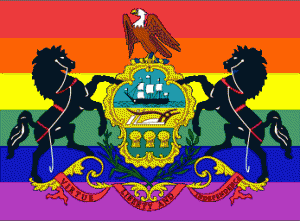 For the first time since Public Policy Polling began polling about gay marriage, it has found that a plurality of Pennsylvania voters approve of its legalization.
In PPP's first poll of the general election, 48% of respondents claimed they approved of same-sex marriage, while 44% claimed that they did not. 9% were not sure.
Just over two years ago in November 2011, PPP found that only 36% of PA voters approved of same-sex marriage, while 52% opposed it. This represents a 20 point increase in approval, and therefore likely confirms a massive attitudinal shift in the state.
Despite disapproval remaining high at 44%, most participants admitted that the decision has lacked any direct impact on their own lives. Only 23% claimed that the decision had negatively impacted them, with 77% stating that the decision had either a positive impact on their own lives or no impact at all.
Approval for gay marriage would be even higher were it not for the 54% of PA seniors who still oppose legalization. In this demographic, only 36 percent of respondents approved. However, respondents under 45 are overwhelmingly for gay marriage, with 58% approving and only 33% opposing, once again representing a huge generational gap in attitude.
This surge of approval is one of the only things Republican nominee and current Gov. Tom Corbett has going for him. 56% of participants approved of his decision last week not to appeal the U.S. district court decision that legalized same-sex marriage in PA. 33% disagreed with his decision, and 11% were unsure. Amongst many other unfavorable results, this one stands out as a win for Gov. Corbett.
Despite 56% of respondents agreeing with Gov. Corbett's decision not to appeal, only 45% approved of the court's decision in the first place, while 11% remained unsure. Perhaps the respondents had varying motives for approving of his decision, with some seeing it as a smart political move while for others it was in line with their ideals.
The survey was conducted by PPP, typically regarded as a left-leaning polling agency, between May 30 and June 1. 835 registered voters participated. The margin of error is plus or minus 3.4%. 80% of interviews for the poll were conducted over the phone with 20% interviewed over the internet to reach respondents who don't have landline telephones.