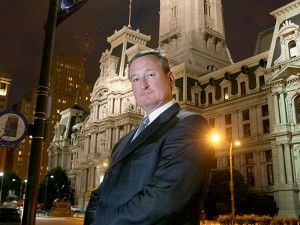 Backers of Philadelphia Mayoral candidate Jim Kenney have conducted a poll which shows the nominee in a virtual dead heat with Anthony Williams.
According to The Inquirer, the poll reveals that Kenney is leading the pack of likely voters with 26 percent of the vote. Williams is second at 25 percent, and Lynne Abraham is in third with 20 percent. In addition, 19 percent of respondents polled say they are still undecided.
However, the findings of these polls differ greatly from a poll conducted by the Abraham campaign conducted from March 14 to 17. The Abraham poll surveyed 500 registered voters, and results found that Abraham was leading the pack with 30 percent, Williams and Kenney tied at 14 percent, and 29 percent undecided.
This new survey was conducted by Public Policy Polling on behalf of Forward Philadelphia. Forward Philadelphia is a SuperPAC created to aid Kenney's campaign.
It shows an incredibly high 43 percent favorability rating for Kenney. Only 23 percent of respondents had an unfavorable opinion of the ex-City Councilman.
The same poll found that Williams' favorability to unfavorability rating was 37% to 28%, and Abraham's was a close 42%-39%.
In addition, Abraham polled third among women at 20 percent, trailing Kenney's 21 percent and Williams' 29 percent, a surprising statistic given that Abraham is the only women in the race.
PPP surveyed 644 likely Philadelphia voters. The margin of error is plus or minus 3.7%.