New data from Public Policy Polling suggests Congressman Mike Kelly (R-Butler) may not have the support needed to be considered safe in his bid for re-election.
The report, released May 23, finds Kelly holds a 48-to-43-percent lead over Democratic nominee Ron DiNicola, but still suffers from low favorability ratings in a pro-Trump district.
According to poll results, Kelly has a job approval rating of just 38 percent in PA-16 — compared to President Donald Trump's 54 percent. Kelly has a 41 percent disapproval rating.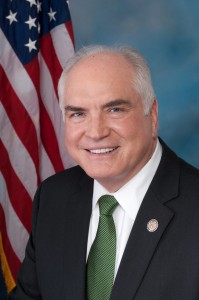 Polling Analyst Jim Williams noted that while respondents in the poll were a Trump +20 sample, DiNicola, an Erie-based attorney, has "room to grow" in the district and remains a competitive candidate.
"Thirty-two percent of voters view him favorably," Williams wrote. "Just 14 percent (view him) unfavorably, and over half" still don't have an opinion.
Williams added that while the district shows strong support for Trump, that may not be the case come November.
"Democrats have been outperforming the 2016 map by double digits in elections throughout 2018," he wrote.
The survey of 623 registered voters was conducted based on automated telephone interviews for DiNicola for Congress and shows 10 percent of voters undecided. There is a margin of error of +/- 3.9 percent.
We found a 5 point GOP lead in a Trump +20 district. Very similar dynamic to AZ-8 special. Still looking like a strong Dem year https://t.co/eMzFPIUK3k

— PublicPolicyPolling (@ppppolls) June 1, 2018