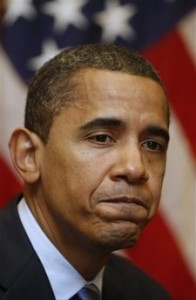 We've got some bad news for the man in the White House.
President Obama's approval rating among Pennsylvania voters has dipped to a record low of 38%, according to a recent PPP poll. At 54%, his disapproval rating is also the highest it has ever been in the Keystone state.
The survey, released Wednesday, shows a growing gap in the president's perception among black and white voters. African Americans are three times as likely as white voters to approve of the president's performance: 92% of African American voters polled approved of his performance, while only 8% disapproved. By contrast, only 31% of the whites polled cast favorable votes, and 61% disapproved. Among voters identifying as "other" races, Obama's ratings stand at 31% approval, 58% disapproval.
Comparing this year's survey to past data shows that the discrepancy between black and white voters has widened in the past year: in the PPP poll from June 2014, the President held the approval of 38% of white voters and 66% of black voters.
One trend holding steady is Obama's popularity among young voters: 43% of those aged 18-29 gave him approving votes. His harshest critics are those between the ages of 30-45 and those aged 65 and older, with 59% of voters in both demographics disapproving of his performance.
When analyzing the data along gender lines, women come out as Obama's more forgiving constituency: 44% of those polled gave him approving votes, compared to only 31% of men.
His approval ratings are predictably varied by party lines: Democrats were split 66-26 in their approval and disapproval of the president. Republicans, by comparison, were split 8-88%.
The PPP polled 799 registered voters from May 21-24. The margin of error for the study is +/-3.5%. 80% of the interviews were conducted over the phone, while the remaining 20% of participants were interviewed over the Internet.