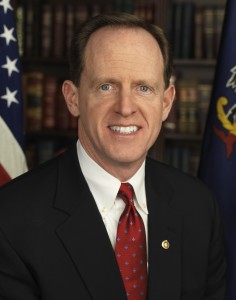 While most of the attention may be on the 2014 gubernatorial election, Public Policy Polling (PPP) also gauged hypothetical matchups for Sen. Pat Toomey's seat in 2016 for their latest poll.
Kathleen Kane, Katie McGinty, Joe Sestak, and Josh Shapiro are the four Democrats offered in the poll as contenders for Toomey's seat.
Pennsylvania Attorney General Kathleen Kane was the only one to garner a higher percentage than Toomey. However, she only leads by 2 percentage points (42% to 40% with 19% undecided). Kane is a controversial figure in Harrisburg due to her support of same-sex marriage (prior to the ruling) and her closing of a corruption case. Republicans half-heartedly attempted to impeach Kane last month.
If Joe Sestak is the Democratic challenger to Toomey, it will be the first time in the history of commonwealth that a rematch has occured. Sestak lost to Toomey in 2010 by just two points, but the PPP poll has Toomey leading him 41% to 35% with 24% undecided.
McGinty, who garnered 7.66% of the vote in the Democratic Primary for governor, finished just behind Toomey with 38% to Toomey's 42%, with 20% unsure.
Finally, there is Montgomery County Commissioner Josh Shapiro who was named a "Rising Star" in Pennsylvania politics by MSNBC last week. The PPP results have Shapiro down nine points on Toomey (41% to 32%). The former state representative does not seem to have enough name recognition yet, as evidenced by the 28% of those polled who were undecided.
Of course, a lot can change in two years, and this PPP poll is an early, hypothetical survey.
PPP conducted the survey from May 30th to June 1st, and asked questions to 835 Pennsylvanians. The poll has a plus or minus 3.4% margin of error. 80% of those polled were reached by phone, while the other 20% answered the poll online because they do not possess a landline phone.