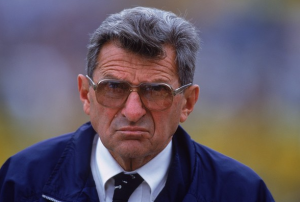 Joe Paterno remains a politically polarizing figure.
That's the conclusion of the latest Public Policy Polling (PPP) survey, which found that Paterno still has a 49% favorable rating among Pennsylvanians.
29% have an unfavorable opinion of him while 21% are unsure.
The former Penn State head coach was back in the headlines recently when evidence emerged that Paterno first found out about Jerry Sandusky's illegal behavior in the 1970's.
PPP revealed that there is a heavy partisan lense to how one views Paterno.
For instance, among those who give Paterno a positive rating Trump leads Clinton 48% to 34%. On the other hand, among those who have a negative opinion of Paterno, Clinton leads Trump 50% to 33%.
Additionally, Romney voters (60/27) and Republicans (58/26) have a much better view of him than Obama voters (42/34) and Democrats (43/32).
The divide is starkest when you asked a respondent about their ideology.
56% of very conservative Pennsylvanians have a favorable view of Paterno. That drops to 53% for somewhat conservative and moderates, 43% for somewhat liberals and all the way down to 38% for very liberals.
It is not all ideological, however, as there are also large gender and race gaps as well.
Paterno has a plus thirty rating with men, 58-28, alongside a plus twelve rating with women, 42-30.
Meanwhile whites have a mostly positive view, 53% to 28%, while blacks are evenly divided, 31% to 31%.
Public Policy Polling surveyed 1,106 registered voters from June 3rd to 5th. 80% of participants, selected through a list based sample, responded via the phone, while 20% of respondents who did not have landlines conducted the survey over the internet through an opt-in internet panel. The margin of error is +/- 3.0%.