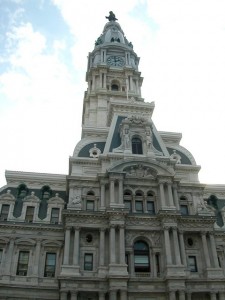 We are just under a year away but already the 2015 Democratic primary for the Mayor of Philadelphia is shaping up to be an intriguing race.
According to a new PPP poll, 41% of respondents were undecided on which Democratic candidate to support. The report came from Troy Graham of the Philadelphia Inquirer, who revealed that the survey was commissioned by the campaign committee of City Controller Alan Butkovitz.
City Council President Darrell Clarke lead the field with 14% with Butkovitz a close second with 12%. Other candidates polled included Councilman Frank Rizzo Jr., a former Republican and son of the late mayor, at 10%. As well as Councilman James F. Kenney (7%), former State Sen. T. Milton Street (4%) State Sen. Anthony Hardy Williams (2%) and former City Solicitor Ken Trujillo (1%).
Since the poll was commissioned by Butkovitz it should be taken with a grain of salt. For example, PPP tested a head-to-head matchup between Butkovitz and Williams in which the former lead 22% to 11%.
Williams garnered attention just this week when he hired 270 Strategies in anticipation of a probable run. Therefore, it is possible Butkovitz released these results to show his support is stronger than Williams'.
The Democratic primary for Mayor of Philadelphia will be held in May 2015.