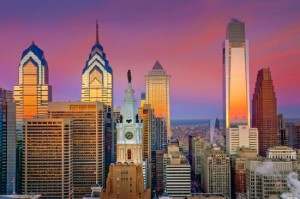 It was a tough battle between three cities to host the 2016 Democratic nominating convention, according to Democratic National Committee Chairwoman Rep. Debbie Wasserman Schultz.
But for the American public, the choice was more clear. A new Public Policy Polling survey found that 40 percent of voters wanted to visit Philadelphia over Brooklyn and Columbus, Ohio — the other two finalists for the convention bid.
Just under a quarter of voters were undecided, while 22 percent favored Brooklyn and 16 percent went with Columbus. The DNC announced Philadelphia as the site of its next nominating convention last month.
The support for Philadelphia was constant among almost all categories — age, gender, race and political leaning. Both political parties and independents favored Philadelphia, with 41 percent of Democrats and 39 percent of Republicans and independents indicating they'd rather spend their time in the City of Brotherly Love.
Among Democratic voters, Philadelphia had some close competition — Brooklyn garnered just 7 percent less support.
In only two categories, Philadelphia fell short of winning the most support. Among very liberal voters, Brooklyn came in with just below 50 percent support, while Philadelphia was second with 36 percent.
African-American voters overwhelmingly favored Brooklyn with 58 percent support. Just a quarter of African-American voters would rather visit Philadelphia.
Philadelphia was the favorite in all age groups and with both genders. The city's biggest supporters were young voters (between the ages of 18 and 29) at 48 percent, somewhat liberal voters and moderate voters, the latter two with 46 percent each.
The PPP survey polled 691 registered voters from Feb. 20 to 22. A majority (80 percent) of interviews were conducted over the phone, and the rest online. The margin of error is +/- 3.7 percent.