New Public Policy Polling data shows incumbent Rep. Scott Perry (R-York) only four points ahead of his Democratic challenger, George Scott.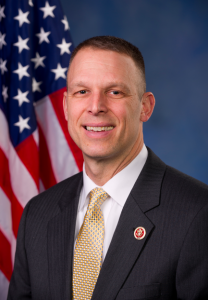 A poll of voters from the new PA-10 show Perry polling at 45 points to Scott's 41 points, with 14 percent of voters undecided.
The poll revealed a 33 percent favorability rating for Perry, with a 36 percent unfavorable view and 31 percent not sure. President Donald Trump, meanwhile enjoys a 49 percent job approval rating in the new district, with 48 percent disapproving, according to the poll.
Scott's campaign can't start celebrating yet, however, as he is still largely unknown to the voters. Data showed him with a favorability rating of 20 percent and unfavorable at 17 percent, with 62 percent of voters unsure.
The 654 voters were polled between June 8 and 10, and show the incumbent likely to face to tough campaign toward re-election, polling analyst Jim Williams said.
"Scott Perry is underwater on favorability and in a direct match-up with George Scott, this poll is within the margin of error" of +/- 4.1 percent, Williams said. "Scott has a lot of running room before November. With over 60 percent essentially not knowing him well, he is still at 41 percent in a head-to-head matchup."
Our own rankings show the seat among Pennsylvania's potentially vulnerable, as the new district had shifted from Trump +22 to Trump +9, though it fell a spot from our previous rankings.
In a press release announcing the results, Scott said he is excited to be closing in but recognizes he has a lot of work to do.
"We are already bringing our campaign to Republicans, Independents and Democrats who want a different approach in Congress," he said.
Perry is a three-term congressman in a district encompassing all of Dauphin County and large portions of Cumberland and York counties.
Scott is a pastor and veteran from Dillsburg who made waves when he burned an assault rifle in an early campaign ad.