UPDATED: According to PPP Survey, PA Voters Favor Generic Democratic Candidates for Congress, 42% to 36%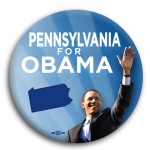 By John McDonald, PoliticsPA Contributor
A survey conducted earlier this month by Public Policy Polling found that Pennsylvania voters would today cast their ballots for a generic Democrat (42 percent) over a generic Republican (36 percent), with 22 percent undecided.
That's good news for Keystone State Democrats, who lost control of the state congressional delegation as well as the redistricting reigns last November.  President Obama's approval numbers, however, might give them pause.  A majority of Pennsylvania voters (52 percent) currently hold an unfavorable view of the President, compared to 42 percent favorable.  The poll also found Obama trailing prospective GOP candidate Mitt Romney (43-42) and narrowly leading Mike Huckabee (45-44) and Rick Santorum (45-43) in hypothetical Keystone State matchups.
"Usually you would expect the fortunes of both the President and House Democrats to be headed in the same direction but at least for this month that has not been the case," PPP's Tom Jensen said in an emailed message.  "Voters are just responding negatively to everyone who's in charge and the unhappiness is cutting across party lines to affect both Obama and House Republicans."
Valerie Caras, director of communications for the Republican Party of Pennsylvania, responded to the poll results Wednesday afternoon: "We are 18 months away from Election Day.  Polls will go up and down, but our members are carrying out what voters sent them to Washington to do.  When you look at how our members connect with voters in their district and consider that Democrat candidates will have to answer for President Obama's unpopular policies like ObamaCare and the stimulus again next year, we feel very confident that our members win earn re-election."
The survey also found that if the rumors of a Sestak-in-2014 effort prove true, Admiral Joe will have his work cut out for him.  His favorable/unfavorable numbers sit at 32 percent to 31 percent, while 37 percent said they weren't sure.
Meanwhile, a couple months out of office has done little to change Pennsylvanians' opinion of Ed Rendell or his one-time boss, Arlen Specter.  Just 33 percent think of Rendell favorably (compared to 55 percent who don't), while Specter's numbers stand at 32 percent/53 percent respectively.
Public Policy Polling, a Democratic pollster, conducted the automated telephone survey of 593 Keystone State voters from April 7-April 10.