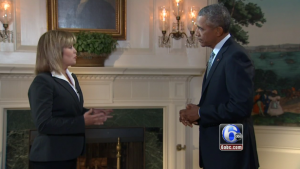 President Barack Obama conducted an interview with Monica Malpass of Philadelphia's 6abc yesterday.
It is common for Presidents to occasionally invite local newscasters (especially those from swing states) to the White House so the Commander-in-Chief can personally reach the local TV news viewers.
This is usually done when the President is trying to sell some piece of legislation or international agreement. In this case, Pres. Obama is defending the Iranian nuclear deal.
"Mr. President, given the thirty year history of mistrust with Iran," Malpass began "how can you be sure they'll comply with this agreement and is it worth risking the relationship the U.S. has with Israel, since they're vehemently opposed?"
"Well, I don't think we can be certain that Iran will comply which is why we set it up so we can catch them if they cheat," the President responded. "Our central security priority here is to make sure Iran does not get a nuclear weapon. That would not just be dangerous for us, it would be dangerous for Israel and dangerous for the world."
He went on to contend that this deal would prevent Iran from gaining a nuclear weapon and prevent another military intervention in the Middle East.
Malpass next asked Obama about rumors that Vice President Joe Biden could enter the presidential race and if the choice between Biden and his first Secretary of State Hillary Clinton would be difficult for him.
The President basically passed on the question.
"The truth is, though, the great thing about American democracy is it's not up to me. I'm just one voter. It's gonna be up to the American people."
Pres. Obama also shook off the recent turmoil in the stock market and pointed to the stronger trends in the economy (this interview was conducted before the Q2 GDP was revised upward to 3.7% today) and the fact that the U.S. is recovering from the Great Recession at a faster and better pace than other countries in Europe and Asia.
Finally, Malpass asked about gun control in light of yesterday's shooting in Roanoke.
"Well, as I've said in the past, it breaks my heart every time you read about or hear about these kinds of incidents," the President stated. "What we know is that the number of people who die from gun-related incidents around this country dwarfs any deaths that happen through terrorism. We're willing to spend trillions of dollars to prevent terrorist activities but we haven't been willing, so far at least, to impose some common-sense gun safety measures that could save some lives."