President Obama to Visit Scranton High School
By Ali Carey, Contributing Writer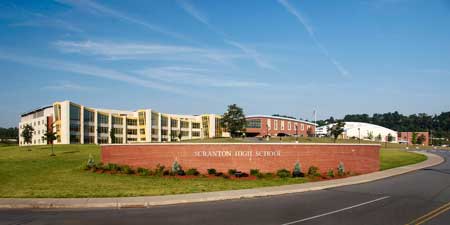 Scranton High School will welcome Barack Obama on Wednesday.
The President will travel to Scranton – typically associated with VP Joe Biden, who hails from the Electric City –  to continue his public push for Congress to pass elements of his American Jobs Act.
He will specifically emphasize the extension and expansion of the payroll tax cut. It's a popular item that Obama argues provided tax breaks to millions of families across the country this year.
The event will be open to ticketed members of the public.
It will not be the first Obama visit to Pa. this fall. He visited Pittsburgh in October and Delaware County in November, also to push elements of his jobs bill.
The Wall Street Journal reports that next to Virginia and Florida, Pa. boasts more presidential appearances than any other swing state, at eight (via StateImpact PA's Scott Detrow).
On the campaign side, the DNC is airing an anti-Mitt Romney television ad in the state this week.  Earlier this month the National Student Summit kicked-off the Obama campaign's "Greater Together" initiative at the University of Pennsylvania in Philadelphia.