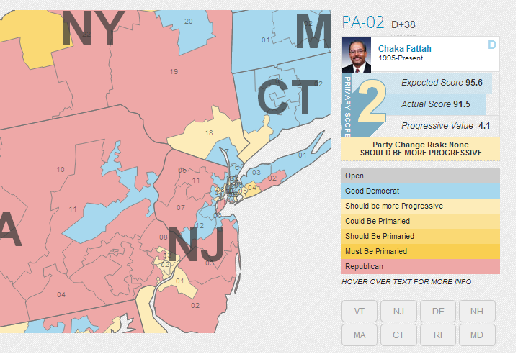 A new rating system for members of Congress launched today, revealing which representatives are progressive enough for their districts.
Called "Primary Colors," this project scores members of Congress based on the partisan voting index of their district and the member's voting habits.
Their final score is determined by a comparison between other members of Congress with similarly partisan districts. The goal of the site is to determine which members could be primaried by a challenger from their left, without fear of losing to a Republican in the general election.
For the most part, Pennsylvanian Democrats align adequately with their districts.
In Pennsylvania's 1st District, Rep. Bob Brady's (D-Philadelphia) district should expect a Democrat with a 91.8% progressive score; Brady scores a 90.2%. In the 2nd District, Rep. Chaka Fattah (D-Philadelphia) scores a 91.5% when his district aligns more with a 95.6%. Rep. Allyson Schwartz (D-Montgomery) sits in a 86.1% progressive district and votes 83% progressive. In Western PA, Rep. Mike Doyle (D-Allegheny) scores a 86.4% progressive voting record in a district that would likely support an 86.6% progressive.
The anomaly in the Pennsylvania Democratic coalition is Rep. Matt Cartwright (D-Lackawanna).
Despite representing a district that expects an 82.6% progressive voter, Cartwright scores a 91.7%, giving him a Progressive Value of +9.1.
The project is a collaboration between Philadelphia-based journalist Jon Geeting, editor of the liberal Keystone Politics blog, and Ryan O'Donnell, a Brooklyn-based organizer with experience in various field and data positions on electoral campaigns since 2007, most recently as State Deputy Field Director on President Obama's reelection campaign in Pennsylvania.
In addition to the interactive map and immense quantities of data, the designers hope to use it as an activist platform where challengers to conservative Democrats can be recruited, and progressives can donate money to their campaigns.