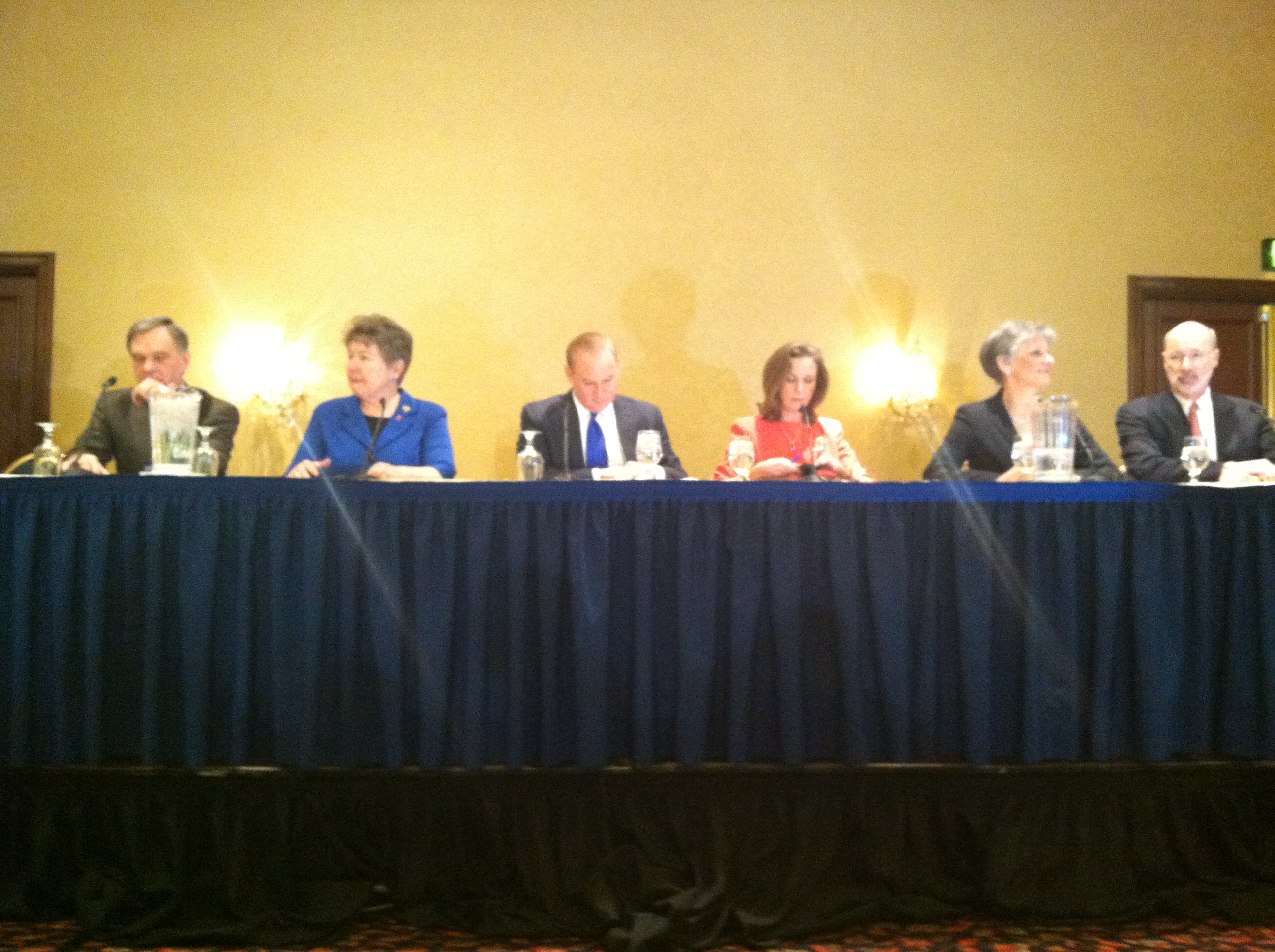 Six of the seven candidates for governor gathered on the stage at the Harrisburg Hilton in a forum hosted by the Keystone Progress Progressive Summit.
Former DEP Secretaries John Hanger and Katie McGinty, State Treasurer Rob McCord, Rep. Allyson Schwartz, former Revenue Secretary Tom Wolf and Lebanon County Commissioner Jo Ellen Litz fielded leading questions from Keystone Progress chairwoman Eileen Connolly for two hours this evening.
The room was well-suited to Hanger, arguably the most progressive candidate in the race. He boldly supported a single-payer health insurance system, promoted the full legalization and taxation of marijuana, touted a 21 point plan for the fracking industry and advocated his Jobs not Jails platform.
He also staked out his claim as one of the original progressives in the race.
"I was for campaign finance reform before it was cool," he quipped as the other candidates promoted their support for campaign finance reform.
McGinty also strongly expressed her disdain for the current system of campaign finance.
"I'm spending probably 80% of my time on fundraising and I feel 0% good about that. And we need to change that," she said.
This topic could have been touchy for Wolf, but he handled it well, saying that money was his only advantage in getting his message out.
"I'm playing by the rules of the game as it exists now, but if I were governor I would do everything in my power to change those rules."
Besides Hanger, there wasn't much distinction amongst the policy platforms of the candidates, but Schwartz provided a strong series of substantive answers based on her experience in the State Senate and in Congress.
"I'm the only one who actually spent many many hours making sure we passed the ACA," she said, and talked about her work with crafting and passing CHIP before it became the model for the Clinton administration.
"It is unwise and unconscionable to leave people without care," she said when discussing the lack of Medicaid expansion in PA. "We will get health care to all Pennsylvanians and we will be leaders for how we do this."
She also reiterated a critique from an earlier fundraising email.
"I will say that it is a challenge to raise money as one of the not-self-funders in this race," she said, a not-so-thinly-veiled shot at Wolf and McCord who have each donated more than $1 million to their campaign, with Wolf donating $10 million.
Despite his newly acquired front-runner status, Wolf wasn't the target of many shots but McCord did make a passing reference to his TV ads.
McCord also revealed his proposal for minimum wage: an increase to $10.70 per hour in his first year in office. Litz countered with the proposal that it would bankrupt small businesses and McCord re-rebutted with the importance of lifting working families, particularly women, out of poverty.
On the issues, none of the candidates advocated a full moratorium on drilling, all supported a Medicaid expansion and state expansion, each supported "common sense" gun regulations and we learned that Litz was an avid hunter in her youth.
Education was a frequent topic, though specifics weren't seriously addressed. Every candidate advocated for the reform of charter schools, though their responses came after a seriously leading question that began with, "Cyber charter schools are an abject failures… "
McGinty and McCord credited their personal successes to the public school system and included that in their motivations in running for office.
Wolf's personal story was a hit, per usual, and even Hanger complimented him on the type of company he ran that shared profits with employees and offered living wages and benefits.
During the event, ballots were passed around for a straw poll in the governor's race, the results of which would be revealed tomorrow during the conference.
Former Auditor General and newest entry to the gubernatorial field Jack Wagner was not present.
The PA GOP wasted no time slamming the Dems, with a press release coming just minutes after closing statements tonight.
"Tonight, the Democratic gubernatorial candidates tried to peddle unaffordable, big government solutions to Pennsylvanians," PA GOP Chairman Rob Gleason said. "For months, these Democratic candidates have tried to convince taxpayers that the only solution for our government's problems is more government, more taxes, and more ObamaCare. No wonder the Pennsylvania Democratic Party refused to support this lackluster group of candidates this year.