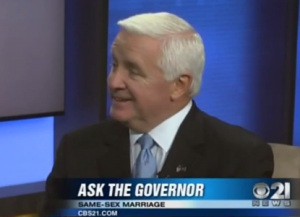 In a play on the ever-popular March Madness, left-wing group ProgressNow released their March Badness list of the most "radical conservatives" who have proven themselves so in the past year.
This year, two PA politicians have made the Not-So-Sweet 16: Governor Tom Corbett and State Rep. Daryl Metcalfe (R-Butler).
Corbett, whom the site dubs, "Last year's March Badness champion," is called a favorite for a repeat 'victory'. In his entry on the site, ProgressNow uses one specific example as to why the PA gov should remain reigning champ.
"Corbett's attorneys, in a filing to stop Montgomery County from issuing marriage licenses, compared gay marriage to allowing 12-year-olds to get married," the group says.
Attempting to quiet the marriage-equality advocates from across PA who spoke out against him, Corbett eschewed the 12-year-olds comparison as an "inappropriate analogy," and said, "I think a much better analogy would have been brother and sister, don't you?"
ProgressNow believes Corbett has continued to fight the legalization of gay marriage in Pennsylvania, pointing out that his actions match up well enough with what he said.
"He has consistently opposed marriage equality, supporting court cases and legislation that keep Pennsylvania as the only state in the northeast that does not have same sex marriage or civil unions."
"Governor Corbett has demonstrated from the beginning that he will make the right decisions for Pennsylvanians, advancing an agenda that keeps taxes low and creates family-sustaining jobs in the private sector. Governor Corbett is a commonsense leader who has worked across the aisle to build consensus on major initiatives such as comprehensive transportation funding and reversing federal food stamp cuts to Pennsylvania families," Corbett campaign spokesman Billy Pitman told PoliticsPA.
"What's maddening to Pennsylvanians is our opponents and special interest groups promoting false narratives all in a veiled attempt to export the failed Obama agenda to Harrisburg, embracing ObamaCare's burdens on families and small businesses, spending more than we have and imposing job-killing taxes."
Metcalfe made the list for stirring up trouble in the same social rights vein as Pennsylvania's governor. When the Supreme Court overturned much of the Defense of Marriage Act in a landmark ruling last June, Pennsylvania's first openly gay representative, State Rep. Brian Sims (D-Philadelphia) came to celebrate this ruling in a speech on the House floor. However, as soon as he began speaking, Metcalfe shut off his mic.
Metcalfe's reasoning?
"His talking about that [marriage equality] on the House floor would have been an open rebellion against Almighty God and God's word, against God's law. And as a Christian, if I would have sat there and been silent, it would have violated my conscience because of my beliefs as a Christian."
Voters will decide who the winners are for each March Badness round via social media. Votes are tallied whenever someone shares or retweets the quotes from contestants on any social media site.
Here is this year's bracket so far.