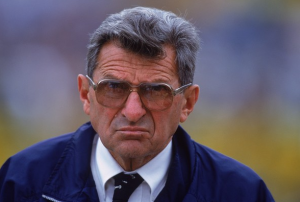 It's been over four years since the passing of Joe Paterno, the polarizing former head coach of the Penn State Nittany Lions football team. Yet, there is still an ongoing struggle surrounding the legacy of the former coach.
200 plus players signed a letter demanding that the university put back a statue of Paterno outside Beaver Stadium. The statue was removed in 2012 following the conviction of assistant coach Jerry Sandusky.
Brian Masella argued on behalf of the players that the board members "haven't made any headway in restoring our legacy, the players' legacy, who absolutely did nothing wrong in the Sandusky."
Their letter comes after a recent report found that Paterno knew of allegations against Sandusky since 1976 and kept them a secret. His family has strenuously denied those charges.  
The University, for its part, has said that it will review the statue's status once the fates of former college President Graham Spanier and former administrators Tim Curley and Gary Schultz are decided. There are still pending criminal charges against those men over the Sandusky scandal.
According to a recent PPP poll, Paterno still holds a 49-29 favorable-unfavorable rating with 21% unsure. Interestingly, party identification correlates to feelings of Paterno, with Republicans approving of the coach 58-26 and Democrats only having a 43-32 approval of the coach.