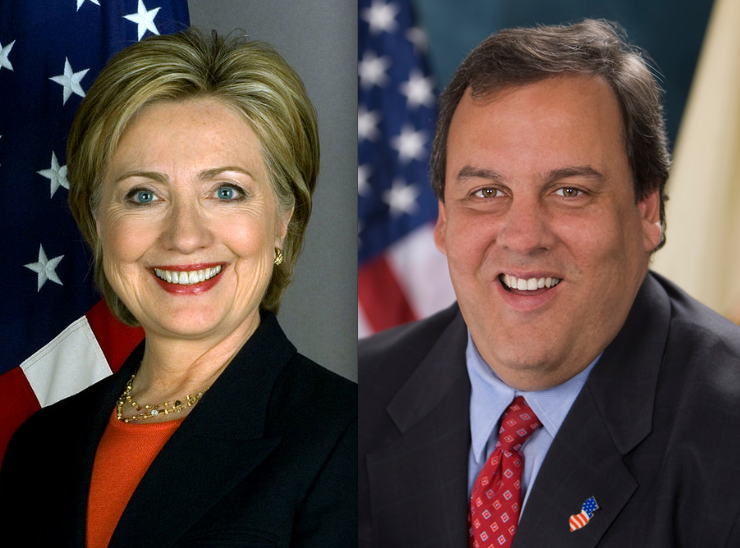 Former Secretary of State and First Lady Hillary Clinton would be a strong favorite if the 2016 presidential election were held today. She leads every prospective Republican candidate according to the latest poll from Quinnipiac.
New Jersey Governor Chris Christie, meanwhile, would beat every Democrat polled except her.
Clinton leads Christie 47% to 42%. She would beat 2012 VP candidate Paul Ryan (R-WI) 55% to 38% and Florida Sen. Marco Rubio 54% to 36%.
In each case she enjoys the benefits of a big boost among women. She leads Christie 55% to 37% among women, while Christie leads mean 48% to 39%. He also wins independents 45% to 37%.
Christie leads Vice President Joe Biden 51% to 38% and New York Gov. Andrew Cuomo 53% to 32%.
"Former First Lady, Senator and Secretary of State Hillary Clinton is keeping her future plans to herself, but if those plans include another run for the White House, she starts in a good position in Pennsylvania," said Tim Malloy, assistant director of the Quinnipiac University Polling Institute.
"And if Ms. Clinton doesn't go for it, Pennsylvania voters can look across the Delaware River at another contender, New Jersey Gov. Christopher Christie."
Cuomo leads Rubio 42% to 38% and Ryan 44% to 41%. Biden is the weakest Democrat of the three, losing to Ryan (who he debated in October 2012) 47% to 44% but beating Rubio 45% to 41%.
If Republicans are counting on Obama fatigue to aid them in 2016, at least in Pa. Clinton shows that she can run ahead of the President.
The same poll respondents who would go for Clinton gave President Obama poor marks. 51% disapproved his job performance versus 44% who approved.
It's the second poll this week to show Clinton in commanding position in Pa. A Public Policy Polling survey showed her ahead of Rubio, Ryan and Santorum; it did not test her against Christie.
That poll showed the New Jersey Governor leading among Pa. Republicans.
Quinnipiac interviewed 1,116 registered voters from March 6 to 11 via land lines and cell phones. The margin of error is plus or minus 2.9%.