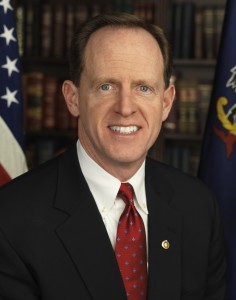 Sen. Pat Toomey's approval rating is its highest ever according to the latest survey from Quinnipiac University. The jump was driven by his high profile on a recent bill to expand background checks.
48% approve of the way the freshman Republican is handling his job in the Senate; 30% disapprove. He is in positive territory among every single demographic subdivision the pollster measured, including Democrats (41% to 34%).
His approval in Quinnipiac's March survey was 43% positive, 32% negative.
A bill he introduced with West Virginia Democrat Joe Manchin would have required background checks on gun sales at gun shows and online. 54% of respondents said the bill made them view Toomey more favorably and 12% said less favorably. The boost includes Republicans (40% to 19% favorably) and Democrats (71% to 4% favorably).
85% percent of respondents said they supported such a proposal, including 69% who support it strongly.
Toomey was hailed as a pragmatist for his willingness to buck the National Rifle Association in favor of legislative compromise (the NRA's "leadership" is viewed unfavorably 41% to 29%). But some noted that the move would help his re-election chances in 2016.
Quinnipiac surveyed 1,235 registered Pa. voters via live calls to landlines and cell phones from April 19-24. The margin of error is plus or minus 2.8%.
Toomey's margin is slimmer – 35% to 29% – when respondents said whether they approve his handling of gun control. His numbers in the category is tied among Republicans (33% to 33%) and in negative territory among respondents who said the prioritize the gun issue or have contacted a public official about it.
70% of respondents said they were either dissatisfied or angry as a result of the Manchin-Toomey bill's failure in the U.S. Senate. 60% to 32%, voters said it was likely Congress would not pass a background checks bill during President Obama's tenure.
Other elected officials
President Barack Obama's job approval rating is out of negative territory in Pa. and dead even, 48% to 48%. It was 51% negative, 44% positive in Quinnipiac's March survey. His handling of gun control is viewed negatively, 48% to 45%.
Sen. Bob Casey's job approval rating is 48% positive, 34% negative, identical to its level in March. He gets slightly negative 29% to 28% marks on the gun issue. He voted for the Manchin-Toomey bill and supports an assault weapons ban.
Terrorism and the Pittsburgh Marathon
Most Pa. voters aren't deterred by the recent attacks in Boston and believe that Pittsburgh Marathon should run as scheduled on May 5. 94% said run the race, 5% said don't, with no significant difference between opinions in Allegheny County and the rest of the state. 89% said it will be safe; 5% said it won't.
78% to 22%, people said the Boston attack didn't make them less likely to attend big public events. 68% to 27%, respondents said such events are "generally well protected".
Generally, Obama's handling of terrorism gets positive marks 59% to 35%.
Governor Tom Corbett's handling of terrorism gets positive marks 32% to 18%, with 50% essentially saying "huh"?
64% to 35%, people said they were not really worried that they or their families would become the victims of a terrorist attack.