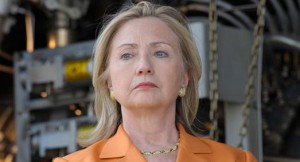 Hillary Clinton is struggling in the Keystone State at the moment.
In the latest Quinnipiac Poll, the former Secretary of State is still ahead of five potential rivals but trails two others. Additionally, her personal ratings have taken a hit.
Some of this was inevitable as Clinton stepped down from the politically empowering post of Secretary of State into the less dignified role of candidate. Yet, it also appears recent controversies have hurt her.
2016 Match-Ups
For the second straight Quinnipiac survey, Clinton trails Kentucky Sen. Rand Paul by a single point.
Paul gets 45% to Hillary's 44%.
Rand isn't the only one, however, to lead the Democratic front-runner this time.
Florida Senator Marco Rubio also leads by one, 44% to 43%.
Meanwhile, Hillary still leads five other potential GOP presidential nominees including: New Jersey Gov. Chris Christie (43/41); former Florida Gov. Jeb Bush (45/41); Wisconsin Gov. Scott Walker (46/41); former Arkansas Gov. Mike Huckabee (46/39); and Texas Sen. Ted Cruz (47/40).
As one would expect, when the numbers are broken down, Clinton leads among Democrats and trails among Republicans in every match-up. There is also a large gender gap as well, Hillary leads every challenger among women yet trails every potential opponent among men.
The difference comes from independents, Clinton has the advantage against the five latter Republicans but is behind Paul and Rubio.
Personal Ratings
A good explanation for Clinton's numbers come from her personal ratings.
Pennsylvania was the only state of the three surveyed (Quinnipiac also polled perennial battleground states Florida and Ohio) where Hillary's favorability ratings were underwater.
Just 46% of respondents have a favorable opinion of the ex-Secretary of State compared to 48% who have an unfavorable opinion. This is the first time since the 2008 campaign that Clinton's favorable numbers dipped below her unfavorable numbers.
There is also a gigantic gender gap on this question. Hillary has a 58% to 37% favorable margin among women against a 33% to 60% margin among men.
Clinton fares even worse on the question on whether she is honest or trustworthy.
Only four in ten Pennsylvanians trust Clinton while 54% don't. Once more, there is a substantial gender gap between women (48/44) and men (31/65).
The silver lining is that 57% still believe Clinton has strong leadership qualities.
"Bottom line, no one is stepping up to take a roundhouse at Hillary Clinton in Pennsylvania," said Tim Malloy, assistant director of the Quinnipiac University Poll.
"She may look vulnerable on paper, but the GOP field is not pressing her," he concluded. "Not a runaway by any measure, but imagine Clinton's numbers if she had the full trust of Pennsylvanians."
This Quinnipiac poll surveyed 970 registered voters in Pennsylvania. It was conducted from June 4th to 15th and included live interviews with respondents on land lines and cell phones. The margin of error is +/- 3.2%.