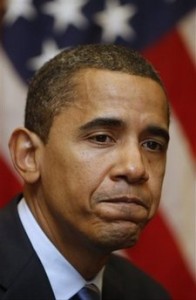 It's no secret that President Barack Obama's approval ratings have dipped in Pennsylvania.
Now, not only do Pennsylvanians find fault in Obama, a majority of voters want the next president to take the country in an entirely different direction.
A new Quinnipiac University poll finds Obama with just a 44 percent approval rating in the blue Keystone State. More than half (58 percent) of voters hope to see a shift away from Obama's policies in 2016.
In fact, less than a quarter of Pennsylvania voters (21%) say that Obama's policies have helped them personally, compared to 34% who feel hurt by them and 44% who feel no difference.
A larger number, 40 percent, believe that Obama has helped boost the economy, while 37 percent think the opposite and 19 percent say the president hasn't made a difference.
Half of Pennsylvania voters oppose the Affordable Care Act, while 44% support it. However, only a quarter, 26%, want to repeal the law entirely. A total of 59% support keeping the law in place following some minor or major changes.
Obama's proposal to provide free tuition for community college at the expense of the federal government took some heat, as well. Just 44 percent support the proposal, while 52 percent oppose it.
On tax policy, however, Obama and Pennsylvania voters see more eye-to-eye. A solid majority (62%) of voters support increasing taxes for the wealthy to help ease the tax burden of the middle class, a proposal Obama recently made in his 2016 fiscal budget. Just 33% oppose this policy.
The Quinnipiac survey was conducted from Jan. 22 through Feb. 1 as a part of the Swing State Poll. The project focuses on voters from Florida, Ohio and Pennsylvania — no presidential candidate since 1960 has won without carrying at least two of these states.
The poll questioned 881 voters in Pennsylvania. The margin of error is +/- 3.3 percent.