In the latest poll conducted by Quinnipiac, Pa. voters are uneasy over Gov. Tom Corbett's new transportation tax plan.
The plan, which would remove the cap on the oil franchise tax and could generate up to $2 billion in needed revenue for transit, is largely divided amongst Pa. voters, with 45 percent supporting the measure and 47 percent opposing it.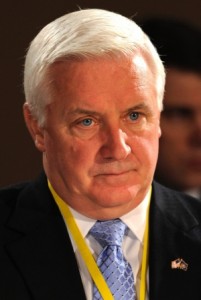 However, voters are concerned that eliminating the cap could place a tax burden on them, with 82 percent showing concern as opposed to only 18 percent who are not concerned.
Corbett's plan is aimed at obtaining the necessary $2.5 billion for fixing damaged roads, bridges, as well as public transportation. While removing a tax cap doesn't necessarily mean a raise in taxes, it's clear that voters are concerned that additional taxes are on the way.
The poll was conducted from January 22-27, and surveyed 1,221 registered voters. There was  a margin of error of +/- 2.8 percent.