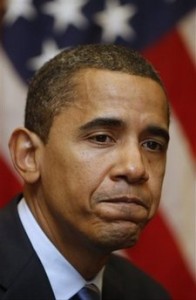 President Obama was not immune to newest Quinnipiac Poll, which showed Democratic candidates struggling.
The President went from a 51% to 47% split last month, to a 45% to 53% split this month.
As a result, these results are the best indicator yet that Quinnipiac's numbers are either an outlier or the first sign that the Dems are undergoing some major problems.
The following demographics gave Pres. Obama a positive score: Democrats (83/17), non-whites (73/27) and 18 to 34 year-olds (62/36).
This survey was conducted by Quinnipiac University using live interviewers calling land lines and cell phones from June 30th to July 11th. They contacted 982 registered voters in Pennsylvania. The margin of error is +/- 3.1%.