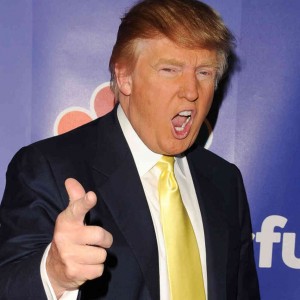 Yes, it's actually true.
Donald Trump is leading the Republican field of presidential candidates in Pennsylvania.
According to a new Quinnipiac poll that surveyed PA (along with Florida and Ohio), Trump is ahead among all GOP candidates in the Keystone State.
The former reality TV star received 24% while neurosurgeon Ben Carson came in second at 13% and Florida Sen. Marco Rubio finished third with 10%.
Businesswoman Carly Fiorina came next with 7%, former Florida Gov. Jeb Bush got 6% while the trio of Texas Sen. Ted Cruz, Kentucky Sen. Rand Paul and Wisconsin Gov. Scott Walker each received 5%.
Rounding out the field were: Pennsylvania's own former Senator Rick Santorum (4%); Ohio Gov. John Kasich (3%); New Jersey Gov. Chris Christie (2%); former Arkansas Gov. Mike Huckabee (2%); and Louisiana Gov. Bobby Jindal (1%).
Trump leads among all segments of the party and with men and women.
He also say the biggest jump in support from last June's survey, gaining twenty points. Fiorina picked six points and Carson three.
Meanwhile, several candidates saw large drops in support, chief among them Paul who lost six points. Bush, Christie, Huckabee and Walker each dropped four.
Dig deeper, however, and several of Trump's numbers are horrible.
Just 34% of respondents view him favorably against 55% who view him unfavorably. Only with Republicans and men are these numbers not underwater.
Additionally, voters don't find him honest or trustworthy (40% against 53%), don't think he cares about their needs and problems (36% against 50%) and don't believe he has the right temperament (30% against 65%).
The only question he scores well on is strong leadership qualities (65% to 33%).
This survey was conducted by Quinnipiac University using live interviewers calling land lines and cell phones. They contacted 443 registered Republican voters. The margin of error is +/- 4.7%.