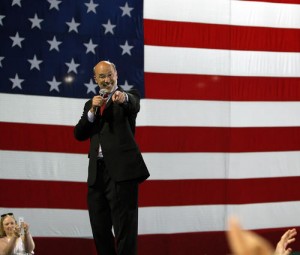 The third time was not the charm for Governor Corbett this week.
A new Quinnipiac poll released today shows the Governor trailing Democratic nominee Tom Wolf by twenty points, 53% to 33%.
This is the third poll this week to show the Governor down at least 20 points. A Rasmussen poll had Wolf's lead at 20 while PPP had it at 25. Unfortunately for Gov. Corbett these polls provide a pretty definitive read of the race at this moment. Rasmussen is generally seen as a Republican-leaning firm, PPP a Democratic-leaning firm and Quinnipiac a nonpartisan firm.
The results are nearly identical to the last Quinnipiac poll from February, indicating that the attacks from State Treasurer Rob McCord and Rep. Allyson Schwartz failed to hurt Wolf.
Meanwhile, the Governor's approval rating stands at 35%, the lowest it's been in a Quinnipiac poll, while his disapproval rating is 55%. His favorability rating is 29% and his unfavorability hits 50%. On the other hand, Wolf holds a 46-14 favorability advantage.
When broken down by issue, Wolf maintains his lead across the board.
His strongest issue is education where the former Department of Revenue Secretary leads the Governor by a 59-26 margin. Yet Wolf also comes out on top concerning the economy/jobs (55-29); energy/the environment (53-29); health care (50-29); taxes (49-34); government spending (46-35); and abortion (35-31).
In an interesting contrast, which might help explain some of the Governor's problems, 40% say the state's economy is "excellent" or "good" but only 23% of people feel "better off" than they were four years ago.
Among those that disapprove of Corbett, 30% cite education. Therefore, it appears improving economic numbers are having no effect at all on the Governor's numbers.
From May 29 – June 2, Quinnipiac University surveyed 1,308 registered voters with a margin of error of +/- 2.7 percentage points. Live interviewers call land lines and cell phones.