By Keegan Gibson, Managing Editor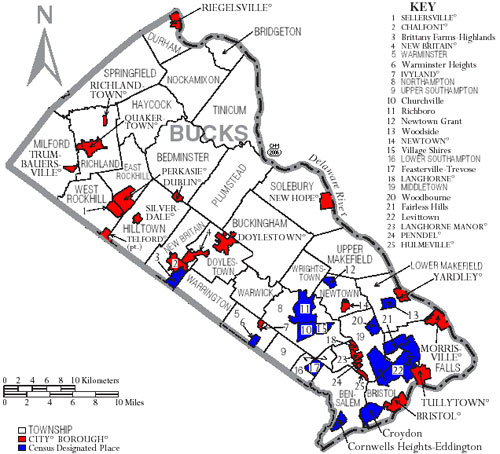 In PA's ultimate swing county, the race for the county courthouse could be among the closest in the state – and might set the tone for 2012.
By any definition, Bucks is a PA bellweather. It came out for Ed Rendell and Bob Casey in 2006, and Rep. Mike Fitzpatrick beat Patrick Murphy by a mere 1,024 votes. But unlike neighboring Montgomery County, and despite a 191,778 to 178,057 voter registration in favor of Democrats, Bucks went red in 2010 for Tom Corbett and Pat Toomey, and Mike Fitzpatrick won by 19,026 votes.
"Bucks County elections are always a good bellweather for Pennsylvania.  It's demographics and partisan distribution make it a great place to look at in terms of identifying the direction of voters in the Commonwealth," said Dr. Chris Borick, Director of the Muhlenberg College Institute of Public Opinion in neighboring Lehigh County.
This year, incumbent Commissioners Charley Martin and Rob Loughery – along with Republican insiders across the state – are hoping the GOP's momentum holds. They point to Bucks County's stable economy as evidence of their leadership.
Democratic Commissioner Diane Ellis-Marseglia and Doylestown Borough Council President Det Ansinn, critical of two and a half decades of GOP administration, think voters are ready for a change.
Click here to read PoliticsPA's interview with Martin and Loughery. Click here to meet Marseglia and Ansinn.
2007
The most pertinent place to start is 2007, the last Commissioner election. That year, the top vote-getter was Jim Cawley. Martin, who finished third, cleared his Democratic opponent by 1,479 votes. About 112,000 people voted in that election. Here are the results:
Jim Cawley (R): 56,705
Diane Marseglia (D): 54,253
Charley Martin (R): 50,723
Steve Santarsiero (D): 49,244
Jay Russell (C): 5,771
It's clear why Democrats think they have a shot this year. The Republican ticket also won't be as well known as last election. Jim Cawley isn't on the ballot this year, and newcomer Loughery has never held elected office before.
The other row offices results from 2007 are more favorable for the GOP. Republican candidates for Register of Wills, Treasurer, Clerk of Courts, and Coroner swept their opponents by 10.66, 6.06, 2.66 and 5.9 percent, respectively (Fun fact: the Dem candidate for Register of Wills was Kathryn Boockvar, who's now running for Commonwealth Court).
Scandals in the Courthouse
Economically speaking, Bucks County is on a fairly even keel. Unemployment is consistently lower than the state average, and Standard and Poors assigned it a AAA bond rating. And the local GOP is well known for its successful get out the vote efforts.
However, the key issue may be uniquely local.
For the past few months, Bucks County has seen more than its share of scandals, investigations and ethics complaints. The Republican Register of Wills turned herself over to police in March, accused of using official resources for campaign purposes. Someone in the courthouse rubber-stamped a generous severance deal for a person of interest in that case. The Attorney General is currently investigating the county Sheriff over a number of charges, including use of taxpayer resources for political purposes.
PoliticsPA looked at this a bit in May, but suffice it to say that Republicans are saying the ordeal had nothing to do with the Commissioners, while Democrats are blasting a culture of corruption resulting from one-party control. Expect much of the paid media from the GOP to focus on the economic story of Bucks, and Dems to talk about a need for change.
So far, the Democrats have the advantage when it comes to raising funds to spread that message – they lead their GOP opponents $140,000 to $100,000 in cash raised, according to both campaigns.
Local parties
Being such a swing county, it's little surprise that Bucks was one of just two PA counties to make both the Democratic and Republican list for Best County Chairs this year (in addition to Chester Co).
Both local parties are optimistic about the race.
"Each election is different. Four years ago, we came within 1,400 votes of taking the third seat and Diane placed second, That was significant. At that time, we were down in registration about 15,000 to 20,0000. Now we're up about 14,000," said Dem Chairman John Cordisco.
"It comes down to turnout. If we can get our voters out, things will turn out very well."
"Looking in Bucks County, how hugely we won our Republican candidates. Corbett by 24,000 I think it was, Toomey by 17,000, Fitzpatrick by 19,000, I think that shows how well our message is resonating with the voters," said Pat Poprik, Vice Chair of the Bucks GOP. "I think that we're going to do very well, and I think that we will maintain the Commissioner seats of the Republicans."
"I think out get out the vote is excellent. It's proven over the years, no moreso than last year."
Caroline Johnston and Chris Bowman contributed to this report.