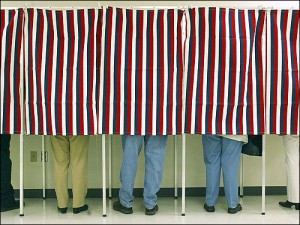 Election day is nearly upon us and we have some important primary elections for some of the commonwealth's statewide and congressional offices.
So, we decided to give a brief run-down of the top six races to watch on Tuesday night.
1. Democratic Gubernatorial Primary
State Treasurer Rob McCord vs. Former DEP Secretary Katie McGinty vs. Congresswoman Allyson Schwartz vs. Former Department of Revenue Secretary Tom Wolf
It's the race everyone is watching and as a result the race we know the most about. Despite the attacks by McCord and Schwartz, Wolf has maintained his lead in the polls. The main questions in this contest are whether the front-runner's lead holds and if so how big of a victory will it be.
2. Democratic Lieutenant Gubernatorial Primary
Former Congressman Mark Critz vs. Harrisburg City Councilman Brad Koplinski vs. State Rep. Brandon Neuman vs. Bradford County Commissioner Mark Smith vs. State Sen. Mike Stack
The fight for the second spot on the Democratic ballot is wide-open according to the latest polling, with 42% of likely voters undecided. Stack currently holds a narrow lead over Critz and the State Sen. has a major fundraising advantage while the ex-Congressman had to cancel his ad buy. In in a low-information statewide race such as this, it is also feasible that one of the other candidates could pull out a victory.
3. Democratic Primary for Pennsylvania's 13th Congressional District
Physician Val Arkoosh vs. State Rep. Brendan Boyle vs. State Sen. Daylin Leach vs. Former Congresswoman Marjorie Margolies
My own personal favorite. This race has had enough attacks, accusations, FEC complaints and drama to qualify for its own HBO mini-series. Arkoosh is the rookie who has exceeded everyone's expectations, Boyle is the Philly native with a solid ground game, Leach is the self-proclaimed "Liberal Lion" and Margolies held this seat twenty years ago and is in-laws with the most popular political family in the country. Since the 13th, which contains parts of Northeast Philly and Montgomery County, is a heavily Democratic district the victor is the prohibitive favorite to win in November. In reality, this race has been so up and down that these four candidates could finish in any order on Election Night and it wouldn't really be a surprise.
4. Democratic Primary for Pennsylvania's 8th Congressional District
Chemist and small businesswoman Shaughnessy Naughton vs. Iraq and Afghan war veteran Kevin Strouse
A bit overshadowed by the race in the neighboring 13th district, the battle between Naughton and Strouse has been no less tough. Strouse was an early DCCC recruit while Naughton has received some assistance from EMILY's List, producing a rare split in Democratic forces. Naughton has repeatedly sought to make her stand on a permanent drilling moratorium in the Delaware River basin the defining issue of the campaign but her success in that endeavor remains to be seen. Strouse has more cash and is the only candidate on TV. The winner will face Rep. Mike Fitzpatrick, who has been busy building up his war chest.
5. Republican Primary for Pennsylvania's 9th Congressional District
Businessman Art Halvorson vs. U.S. Army vet Travis Schooley vs. Rep. Bill Shuster
Most of the action this year has taken place in Democratic primaries but in PA's 9th district two conservative challengers have emerged to try to defeat Congressman Bill Shuster in the Republican primary. Halvorson has drawn enough attention from Shuster that the incumbent has attacked him in campaign ads and rallied around GOP allies like the Chamber of Commerce and the NRA to his cause. Schooley has run a more low-profile race, though better than in 2012, when he failed to make the ballot. Rep. Shuster holds a solid incumbancy advantage as he has represented the Ninth since 2001, when he took over from his father, who was first elected in 1972.
6. Democratic Primary for Pennsylvania's 12th Congressional District
Korean War veteran John Hugya vs. businesswoman Erin McClelland
A plain study in contrasts, the two competitors are running two very different campaigns. Hugya who was Chief of Staff to long-time PA-12 Rep. Jack Murtha, is running on name recognition and local connections. Meanwhile McClelland, despite being a relative political novice, has been able to match her opponent in the fundraising race. Either candidate will face a difficult task, though, as GOP incumbent Rep. Keith Rothfus holds a solid advantage in the R+9 district.