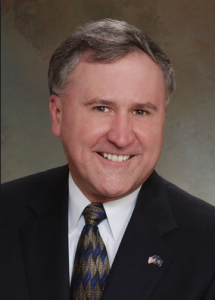 State Sen. John Rafferty made his campaign to be PA's next Attorney General official in Harrisburg today while surrounded by law enforcement.
The lawmaker for the 44th senatorial district said he hopes to bring stability back to the Office of Attorney General, with incumbent Kathleen Kane facing a growing swell of controversies and a plummeting approval rating.
"Unfortunately, there's been a black cloud over the attorney general's office of late. Resources have been committed to addressing other issues that have arisen in that office," Rafferty said at his announcement at the PA State Troopers Association headquarters, according to a Tribune-Review report. "I want to bring integrity back to that office. I want to bring responsibility back to that office."
Yesterday it was reported that Kane's chief of staff Jonathan Duecker drives a Mercedes-Benz that was seized during a drug bust, which is against state law. The OAG defended Duecker, saying he is still involved directly in narcotics investigations, allowing him to use the car (after $6,000 in repairs were made to it.)
Duecker was accused of sexual harassment, before he was promoted to control hiring and firing in the office by Kane.
Kane, the state's first Democrat and female to hold the office, has also been under fire since shutting down a sting operation which uncovered four state Reps. who were accepting bribes.
"The fact there's been controversy has been undeniable," Kane's spokesman Chuck Ardo told Sam Janesch of the Tribune Review. "[Kane] welcomes the opportunity to debate her priorities when the time comes. At the moment, she's focused on doing the job she was elected to do."
Rafferty previously served as a Pennsylvania State Deputy Attorney General before venturing into politics. He scored three endorsements today, from the troopers, the FOP and the PPFFA.
The State Sen. could face a primary challenge from three-term state Rep. Todd Stephens, who has said he will wait until the state's budget passes before making a final decision.
Kane could find herself in a primary fight as well, with speculation mounting over a possible challenge from Montgomery County Commissioner Josh Shapiro, who recently declined an "invitation" from several national Democrats to run against U.S. Sen. Pat Toomey next year.