Pittsburgh Mayor Luke Ravenstahl started off 2013 with a fundraising lead, his campaign announced Tuesday. He has $781,500 on hand, hundreds of thousands more than his nearest opponent.
"These contributions represent the broad base of support that Mayor has in running for his next term. The Mayor is grateful to his donors and looks forward to engaging with voters through the campaign," his campaign said in a statement.
That number reflects a 2012 fundraising year worth about $440,000 for the Mayor (he ended 2011 with $342,000 on hand).
His chief opponent, City Councilman Bill Peduto, boasted that while the Mayor had raise more, he had raised faster.
A campaign press release noted that Peduto, "raised $329,671.38, for an average of nearly $110,000 per month – a haul that far outpaces Ravenstahl, who managed to add only $440K to his campaign coffers after an entire year of fundraising."
Peduto also noted that 89 percent of his donors have not yet given the maximum allowable under campaign finance regulations, and 98 percent of the money he has raised is eligible to be spent in the primary election.
But how much he trails the Mayor is not known: Peduto's campaign blacked out their cash on hand totals in the finance report cover sheet they sent to the press.
Welcome to the race, Michael Lamb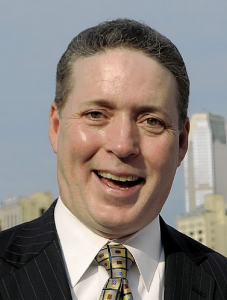 Ravenstahl's edge with cash on hand isn't his only good news this week. Another candidate is getting into the Democratic mayoral primary and could split the voter of people who oppose the incumbent.
City Controller Michael Lamb will announce his candidacy on Wednesday. He was raised in the Beechview neighborhood of Pittsburgh. He's kicking off his bid at a coffee shop in Brookline, in the South Hills.
"We can see the promise and perseverance in this city right here in the small businesses in Brookline," said Lamb. "As a proud, lifelong Pittsburgher, I believe Pittsburgh deserves a Mayor who can build on that promise by leading with competence, hard work, and integrity."
Former Pa. Auditor General Jack Wagner is also reportedly considering a bid, though he may skip the Democratic primary and opt for a run as an independent in the fall.