The PAC Citizens for a Better Pittsburgh, chaired by Mayor Luke Ravenstahl, launched its second attack on candidate Bill Peduto Monday. The ad asserts Peduto is, "a risk Pittsburgh can't afford."
The group previously aired its first TV spot against Peduto in April.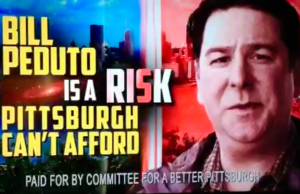 In this latest commercial, a narrator accuses Peduto of living in a parallel universe "where everything is backwards". The ad states Peduto, "supported giving tax breaks to wealthy developers but cutting the pensions for police."
 "Peduto supported higher parking rates for us but special lower parking rates for himself. And Peduto supported raising seniors property taxes but using other people's money, including tax dollars, to take exotic trips."
Finally the ad concludes by telling voters, "Bill Peduto is a risk Pittsburgh can't afford."
A Peduto spokesperson wasn't immediately available for comment.
Update: Peduto spokeswoman Sonya Toler called the ad "false and wholly misleading." Her point-by-point rebuttal is here.
The spot will air on all three network channels this week at a cost of roughly $70,000 according to Tim McNulty of the Pittsburgh Post-Gazette.
This ad buy comes on the same day that a new Keystone Analytics poll was released which shows that Peduto has increased his lead over his chief rival former Auditor General Jack Wagner to seven points, 39% to 32%.