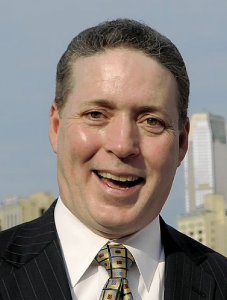 It's a good day for Michael Lamb. The Pittsburgh City Controller will be the endorsed Democratic candidate for mayor, now that incumbent Mayor Luke Ravenstahl has withdrawn his name from consideration.
"We thank the Mayor for his respect for the Allegheny County Democratic Committee and our endorsement process.  We look forward to his ongoing support," announced Dem Chairwoman Nancy Mills, who had requested Ravenstahl drop his name. He had until 5pm Wednesday to do so.
The Allegheny County Dems required candidates seeking to be considered for the endorsement to officially submit a request. Ravenstahl and Lamb obliged. City Councilman Bill Peduto, assuming he had little chance of the endorsement, declined to participate. The deadline for consideration has now passed.
Although Ravenstahl dropped out of the race a week and a half ago, his name remained on the Dems' ballot.
What would that have meant? Supporters of the myriad other prospective candidates could have simply voted for Ravenstahl to deny Lamb the endorsement. Now that Ravenstahl is out, Lamb's will be the only name on the ballot on Sunday, March 10.
The flip side of the coin is that the endorsement is likely to carry less weight than usual, given the fact that all parties will know it was made by default.
Meanwhile, it's a good day for Peduto, too. He announced that he's raised over $500,000 for the race so far, making him the best-funded candidate in the race.
"We remain on course to raise the money we need to run a winning race," he said. "In the past week our fundraising efforts have been bolstered by new supporters who we have welcomed to our campaign."