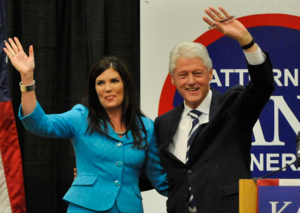 In a crowded field, former President Bill Clinton ran away with it, with nearly half of respondents saying he'd be the best campaign surrogate.
The result is a bit surprising as Democrats' willingness to be seen with the 42nd President has varied over time.
Al Gore didn't use him in the 2000 presidential election because of the ghost of Lewinsky while John Kerry welcomed him four years later. In 2008, Clinton infamously ran into trouble campaigning for his wife in South Carolina yet four years later gave what many pundits considered to be the best speech of the entire 2012 campaign at the Democratic National Convention.
Altogether, Clinton was voted by 358 readers as the best campaign surrogate.
Massachusetts Sen. Elizabeth Warren finished second (110) and New Jersey Governor Chris Christie came in third (87).
Interestingly, former Secretary of State Hillary Clinton wound up fourth with 68 votes, not overly impressive for the 2016 front-runner.
2012 GOP nominee Mitt Romney got a small piece of revenge as he received 60 votes compared to the 21 of President Barack Obama. Incumbent's are usually unpopular during the midterms but reports suggest the Commander-in-Chief may be coming to PA.
Rounding out the group, Jeb Bush got 18 votes while just 8 respondents chose 2008 GOP nominee John McCain.
The full results are included below:
Who would be the best campaign surrogate?
Bill Clinton (49%)
Elizabeth Warren (15%)
Chris Christie (12%)
Hillary Clinton (9%)
Mitt Romney (8%)
Barack Obama (3%)
Jeb Bush (2%)
John McCain (1%)

Loading ...